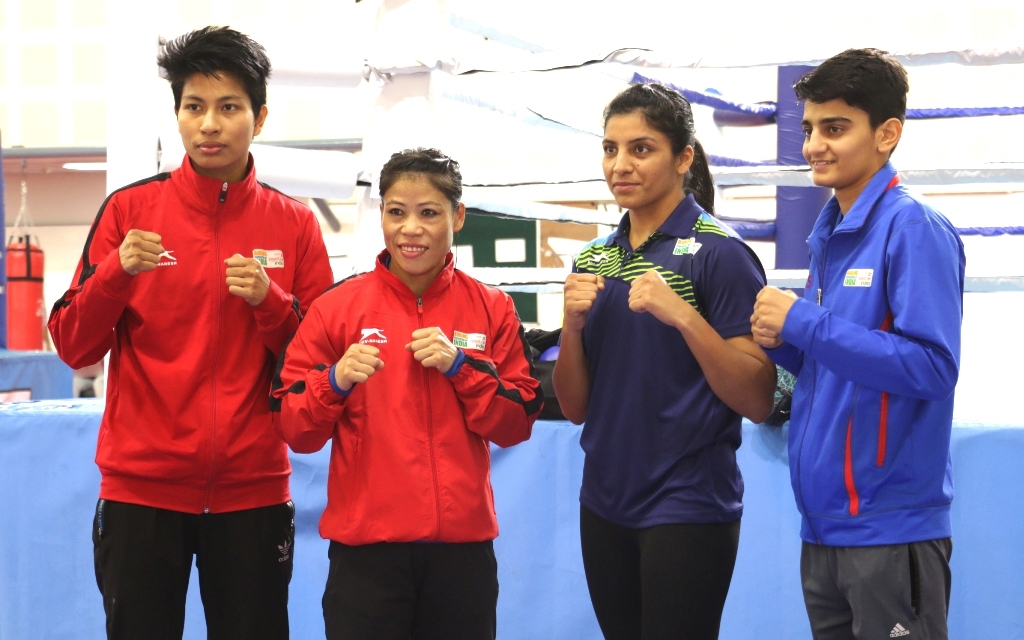 By a correspondent
New Delhi, Nov 22,
 Two Indians, M.C. Mary Kom and Lovlina Borgohain, are in fray for their final bouts in the 10th Women's World Boxing Championships here today.
The Indians cannot get a better chance than this one at home conditions as four of their pugilists have entered the medal rounds. But a lot depends on the celebrated Mary Kom, having already become the most successful boxer in history by assuring herself of a seventh medal, to give the kind of start like she did on Tuesday for the young India brigade to follow suit.  
Undoubtedly, all eyes will on the 35-year-old when she enters the ring at the JD Jhadav Hall for her semifinal bout against North Korean Kim Hyang Mi.  
The Indian had beaten Kim in her last meeting in the Asian Championships but the Manipuri veteran is confident. Like she said during the quarterfinal victory over Chinese Wu Yu, all bouts in the world championships are tough. But what weighs things in her favour is her sheer experience.
"I am confident. I also know when to drop guard and when to attack. I have worked with the coaches and have a plan in place to  counter her," was how Mary described about tomorrow's semifinals, after a strenuous practice session yesterday.
The North Korean's USP is her aggression and quick movement as one witnessed on Tuesday when she pummeled her South Korean opponent, Chorong Bak, who was a favourite before the quarterfinals.  
A lot of hope hinges on Mary Kom, who is chasing her sixth world title. Equally important will be Lovlina Borgohain's performance as India will hope the young pugilist to progress into the next round.
The Welter category (69 kg) boxer had done extremely well throughout the championships and was particularly good against Australia's Kaye Frances Scott, a CWG bronze medal winner, in the quarterfinals.  
The Assamese boxer gets her chance to avenge her only loss to the Chinese Taipei opponent, Chen Nien-Chin. But Lovlina feels she has matured as a boxer and can think on her feet now. "I was inexperienced last time when I took on her. But I now know how to tackle her. I did watch some of the video clips to know her style of boxing," said 21-year-old who has displayed a perfect mix of caution with aggression so far.  
Two other Indians in fray, Sonia (57 kg) and Simranjit Kaur (64 kg) have their semifinals on Friday. But will be present at the venue to cheer both Mary Kom and Lovlina along with the rest of the squad.
Both Sonia and Simrajnit said they were prepared for Friday's bout. "I have beaten my North Korean opponent (Jo Son Hwa) once before. But both of us know about each other's style, but I am confident of winning because I have worked with the coaches on strategies," said Sonia.
As for Simranjit, she said she was equally prepared, before she went for the practice. "I have worked hard and am prepared well for my bout," she said.  
In today's semifinals, bouts in five weight categories (48, 54, 60, 69, 81) will take place while the remaining five are slated for Friday.