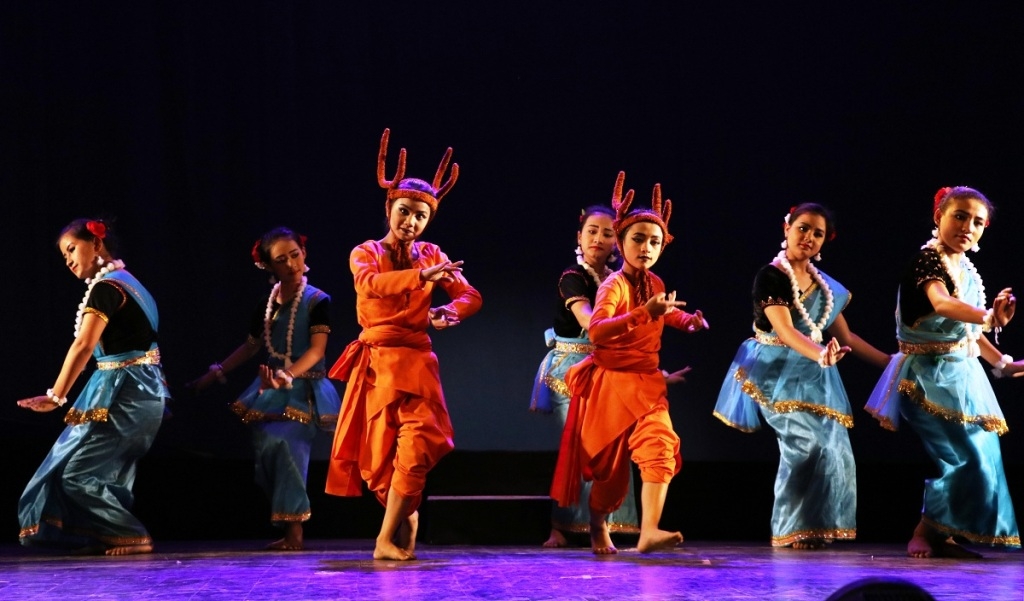 By – Ashok, DIPR
 "Bharathi Ganga" a new dance drama based on Mahakavi Vyas's 81st Adhyay –  Banprava of Mahabharata was presented yesterday by Lianda Folk and Classical Dance Academy, Imphal at the auditorium of Progressive Artiste Laboratory (PAL), located at Lamboi khongnangkhong, Imphal.
The new production dance drama is choreographed by A. Raseswori Devi, founder of the Lianda Folk and Classical Academy and directed by L. Shanti Meitei, a senior artiste & teacher of the Academy.
The dance drama is based on the story of king Sagar of Eskshaku dynasty, who felt so proud for excellent reward and return of the Ashmeda Yagya performed by him where a yagya horse was sent to many countries guarded by his strong 6000 sons that had conquered many countries. In order to die out the pride of king Sagar, God and Goddesses of Heaven sent Kapil, the incarnation of Lord Vishnu. Kapil stole the Yagya horse of king Sagar and reduced his 6000 sons to ashes.  After many attempts by several descendents of king Sagar, Bhaghirath, a grand descendents of king Sagar could fulfill the wish to bring down Ganga to earth for the salvation of 6000 grand ancestors of king Sagar.
The message of the dance drama is that to perform a good service, sincerity and honesty is needed. The dance drama performed by 11 main and 9 chorus artistes.  The dance drama is penned by T. Dijamani Sharma and music is composed by N. Tiken Singh.  
Lianda's new production "Bhagirathi Ganaga" is being produced with the financial assistance of Ministry of Culture, Govt. of India. Lianda Folk and Classical Academy has exposed several forms of Manipuri Classical and Folk dances at many national and international stages like Khajuraho Festival, Lok Tarang Festival, Octave Festival, International Cultural Mart, Indian Cultural Evening at Mandalay, Surin International Festival of Folklore, Congo Folk Fetival, etc.
The release function was graced by Padmashree  S. Thanil Singh and State Awardee and NEZCC Member Shri N. Tiken Singh a sChief Guest and President respectively. The performance was also witnessed by Gurus, artistes, students of several cultural institutions and art lovers of the state.