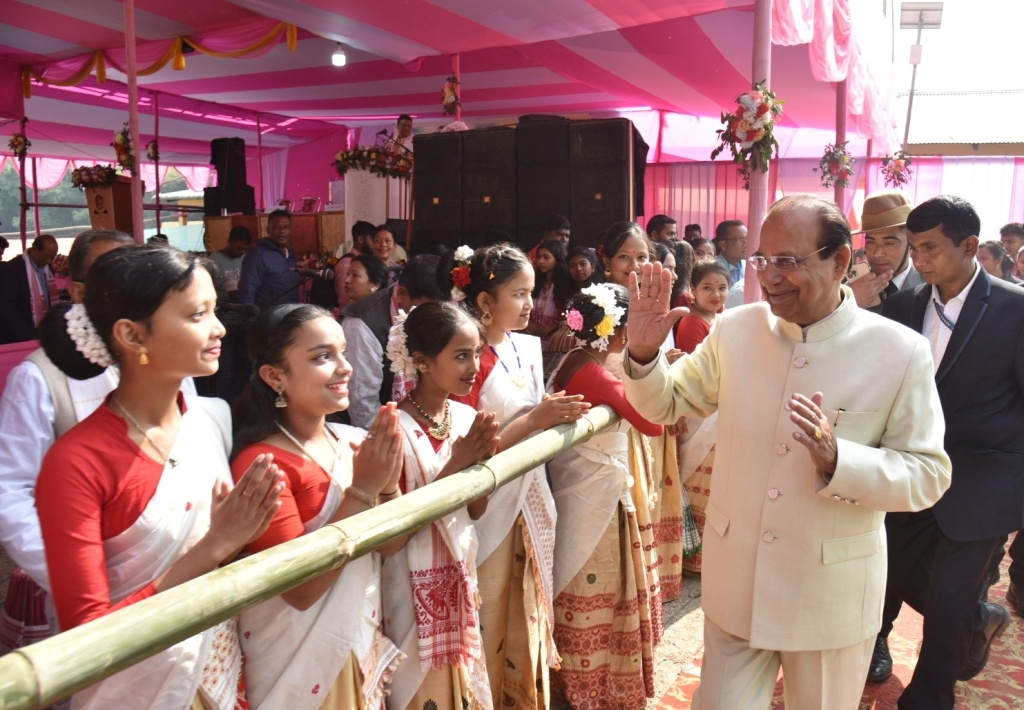 By Nava Thakuria
Guwahati, Jan 25:
Assam Governor Jagdish Mukhi, while attending the closing function of Sankardev Sishu-Vidya Niketan's silver jubilee celebration at Ramdia in Kamrup district on Tuesday, commented that the success ofany educational institution is determined by the impact it creates in young minds and its ability to teach its students to dream big.
"I sincerely believe that a successful educational institution should be in a position to enable its students to dream big and helping them to translate their dream in reality", said Governor Mukhi adding that Sankardev Sishu-Vidya Niketan, Ramdia being a premier centre of education has completed its glorious 25 years, should continue working to create ripples of joys, success, laughter, achievements as well as some challenging moments for its entire fraternity.
The importance of education is that it should never be used as an instrument for earning degrees and it should be adequately used to develop an all-round personality with a keen commitment to social development, he stated urging the management and teachers of Sankardev Sishu-Vidya Niketan to work dedicatedly for holistic development of the students.
"It is a fact that every child is born with inherent talents. Our primary responsibility should be to nurture those inherent qualities with love & care and help him to become an able citizen of the country with a humane heart to work for the society," said the Governor.
Quoting the lines of Nelson Mandela that education is the most powerful weapon which one can use to change the world, Governor Mukhi said that education should be used to find the genesis of any problem and find solution accordingly. Moreover, he said that the success of any educational institution is determined by the impact it creates in young minds. The minds of the young students will one day grow to become the pioneers in their chosen fields, but learning is always a life-long process, added the Governor.
"It is the students on which the nation depends, and it is the students' skill and wisdom which have been India's greatest strength. Hope the new generation serves society both globally and locally and become a powerful force for 'Vocal for Local'," said Governor Mukhi adding that he wanted to congratulate the entire fraternity of Shankardev Sishu-Vidya Niketan, Ramdia on its 25 years of completion.
In presence of Kamrup district magistrate Keerthi Jalli, KKHSOU dean Dibya Jyoti Mahanta, SMDC chairperson Nripen Das, RSS Assam Karjyabah Khagen Saikia along with a host of other dignitaries, the Governor lauded the faculty members of the school for providing all opportunities which enabled their students to inculcate in them values, commitments and services for manifesting a knowledge driven society.