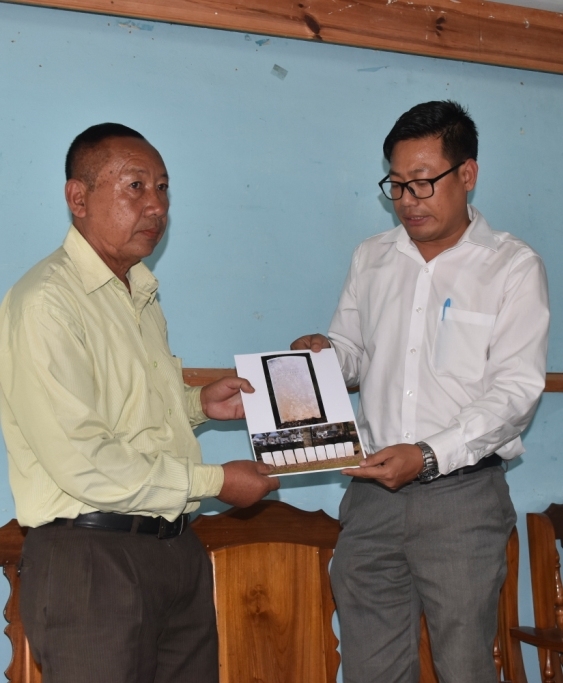 Grave of Akhil Pukhini s/o Aklin Pukhini of Mao Pung Kung village, a personnel of the Labour Corps, who was reported death during War II has been found out at Europe.
Akhil Pukhini was among the 87 persons who was taken to Europe as labour coy by the British during World War II. 2nd World War Imphal Campaign Foundation gave the details of the grave and its whereabouts to the grandson of Akhil Pukhini, identified as  Sully Lohro aged 62.
Speaking to media persons, Yumnam Rajeshwor, Co-Founder, 2nd World WarImphal Campaign Foundation said that Sully Lohro is the second person to receive the grave photo and information of his great grandfather Akhil Pukhini who serve in the WW1.
Photo for the grave of Akhil Pukhini was sent by the Commonwealth War Graves Commission. Akhil Pukhini was buried at the Barly French Military Cemetery, Pas de Calais, France, he added.
Yumnam Rajeshwor further said that he was contacted by the son of Sully Lohro, who is working in a bank at Bangalore. He further said that Sully Lohro's son happen to read the news about finding of graves.
Sully Lohro said while interacting with the media persons that since they are from poor family, they won't be able to visit the grave of his great grandfather at France. They will contact the Embassies of both India and France for further information in the future.
He also wanted the State Government to look into this very historic part of Manipur and extend help to the one who have lost their family member in the  World War in finding their history.
Akhil Pukhini died in May 4, 1918. His labour serial no was 190 of 39 Labour Coy. He had 3 sons and 1 daughter where 2 sons and the daughter had already passed away while one is still alive  who happens to be the father of Sully Lohro.