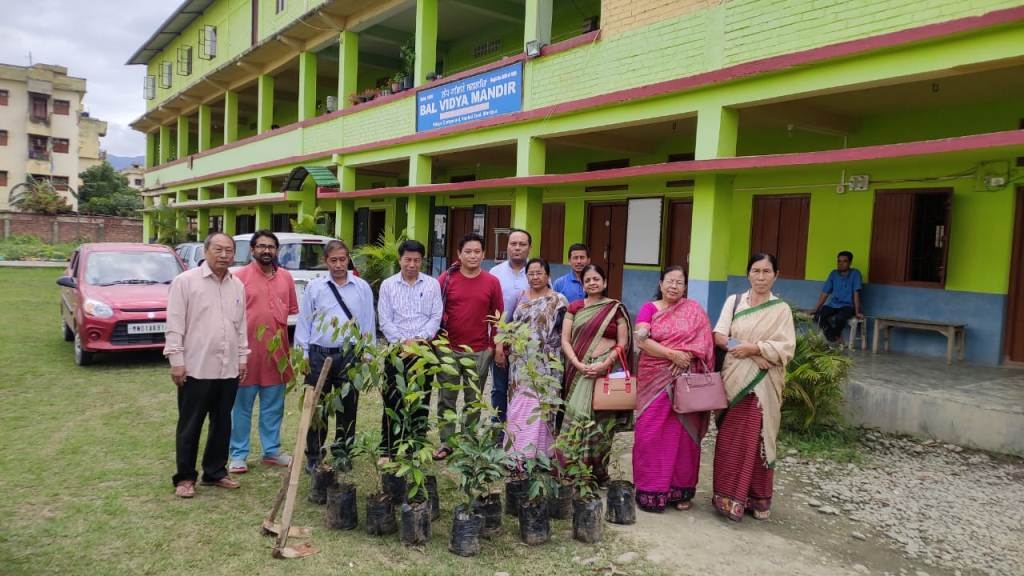 IT News
Imphal,Aug.19,
The Shiksha Vikash Samiti, Manipur have organised a tree plantation program at Bal Vidya Mandir Complex, Palace Compound Imphal today on the eve of its 1st meeting of the newly elected Executive Committee, Manipur.
On the occasion, Y. Khogen Singh, President, N. Munal Meitei, Vice-President -. Sunita Gupta, Vice-president -, Sitaram Bhat, Organising Secretary and M.Chourajit Singh, General Secretary and other Executive Committee members of Shiksha Vikash Samiti, Manipur were present.
On the occasion, N. Munal Meitei told that to save our environment is the responsibility of each one of us in the state. Now-a-days, as a mark to save the degraded environment, mass tree plantations are carrying out everywhere in Manipur and this year as a record, the maximum amount of tree plantations are taking up by the various NGOs, CSOs, Schools, Colleges and the several private individuals as compare to the previous years.
He told that plantation of seedlings and to make them survive is very important but our most important present day issue is to stop green felling i.e. to save the existing forests. Presently we find that trees are cut indiscriminately in the hills which share about 90% of our state's geographical area. He said, it is impossible to conserve the environment and ecology of Manipur without conserving our hills.
But it seems that nobody is taking much interest on conserving and protecting the existing forests of Manipur and plantation activities are also seen less taken in our hill Districts. In our state at an average about 3 to 5 sq.km. of forest are cut and cleared on daily basis mainly for the firewood and other land use purposes. The major consumption of these firewoods are by the mushrooming brick fields. He told that at an average a medium brick field consumed about 3 to 4 tons of firewood daily and annually it burnt-out about 1000 tons. To stake up1 ton of firewood, about 30- 50 grown up trees are cut and thus a brick field is killing about 120 – 150 trees daily. In Manipur, less than 60% population used improvised gas chulla and thus huge quantities  of firewood are also used for various domestic consumptions.
Therefore to save the environment of Manipur in true sense, we need to control such indiscriminate felling of trees. We know that to get the livelihood of the hill peoples, they need these forest products. But as a scientific management, while on felling the firewood, instead of clear felling, they may go for selection felling by retaining at least one to two trees/stumps of straight boles which will not only savings our environment but after 5-6 years, it may earn double to triple the present cost.
In today's Executive Committee meeting of the Shiksha Vikash Samiti, Manipur, it was also resolved to take up similar plantation programs in all the other Schools under the Samiti in Manipur.