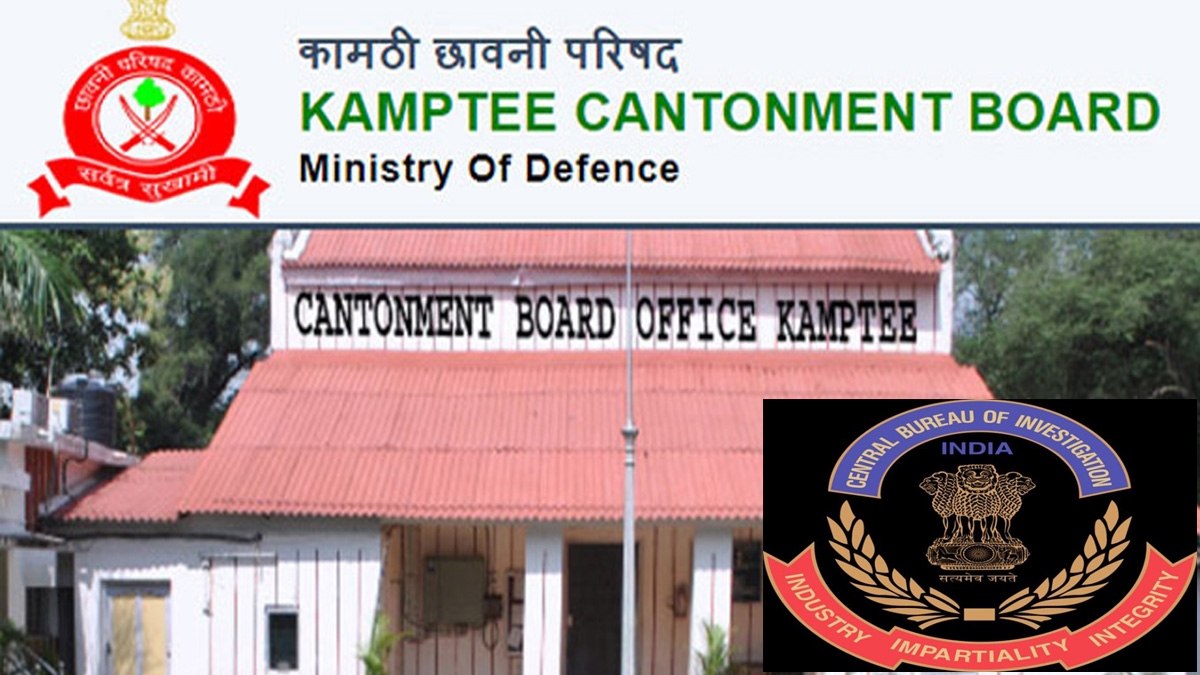 By Raju Vernekar
Mumbai, Apr 20:
The Central Bureau of Investigation (CBI) arrested three persons attached to the Kamptee Cantonment Board (KCB), Nagpur in Maharashtra, in a bribery case related to recruitment in the Board on Wednesday.
The Cantonment Board is a local self government body constituted under the Cantonments Act 1924, under the Ministry of Defence, Government of India. The Kamptee Cantonment Board caters to the civic needs of the population, both Army and civil residing therein and is engaged in improving the quality of their life.
The accused were identified as Deep Ramesh Saktel, Safai Karmachari (a sanitation worker), KCB, Chandrashekhar Kuwarlal Chidhalore, a candidate selected for the post of a gardener and Sheetal Ramteke, a Nursery Teacher working on a contract basis in the KCB. They were remanded to police custody till April 21, by the .Special Judge, CBI Cases, Nagpur, a CBI statement read.
The FIR named: Deep Ramesh Saktel, Chandrashekhar Kuwarlal Chidhalore, Chandrashekhar Krishnaji Lanjewar, Ex-Vice President, KCB and an unknown official of KCB, involved in the recruitment scam.
Defence officials clarified that no Service/ Uniformed personnel were involved in the scam and the arrested accused were civilian employees.
A case was registered against the accused on the allegations that they in connivance with the private persons (touts) were running a racket of recruitment wherein they were approaching the candidates and assuring them jobs of "Assistant Teacher", "gardener" and "Safai Karamchari" and other posts, in lieu of huge bribe.
It was further alleged that Lanjewar, (ex- elected Ward Member) was regularly in touch with Saktel, to seek information about the eligible candidates whose names appeared in the list published by the KCB.
In one such case Saktel contacted Chidhalore, who had appeared for the post of a gardener and assured him of his selection. Chidhalore job paid an initial amount of Rs. 50,000/- to Sakte and agreed to pay remaining amount subsequently.
However during the deal the CBI laid a trap and caught Saktel while accepting the first instalment of total bribe of Rs. 11,50,000/- on behalf of Lanjewar and other officials of KCB. Chidhalore. Who gave the bribe was also arrested.
During investigation, role of a Nursery Teacher- Sheetal Ramteke, working on contact basis in KCB School, (also close associate of Lanjewar) came to the light and she too was taken into custody. Searches were conducted at the residential premises of the accused which led to recovery of incriminating documents. Lanjewar is absconding and efforts are on to trace him, CBI officials said. The further investigation is in progress.