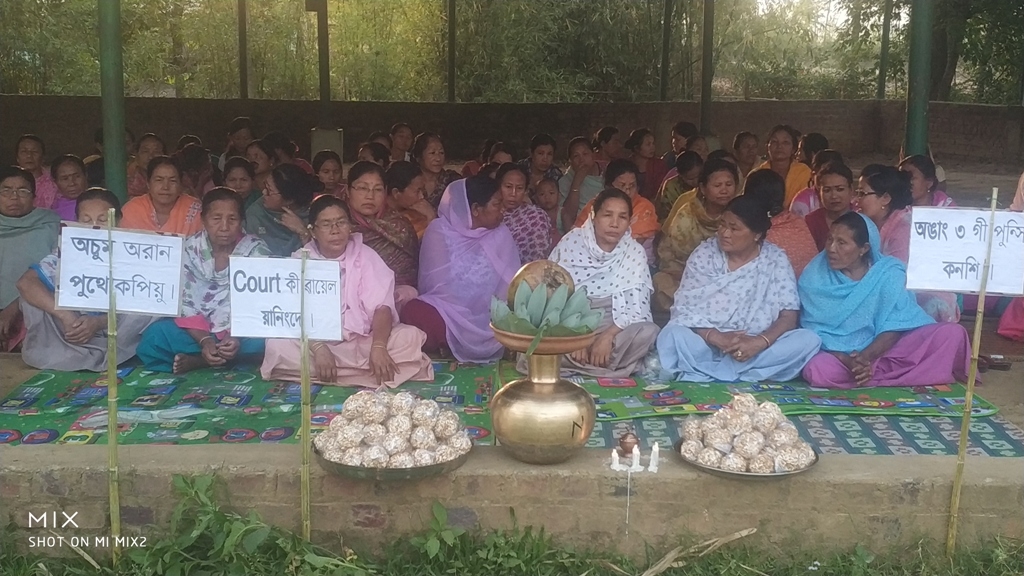 IT News
Imphal, May 12,
Suicide attempt by two sisters unable to bear the pain of the conviction to their father as rapist whom they felt it as a wrongful judgment seems to wake up the people of Charangpat.
Additional Session Judge First Track Court (Crime Against Women Manipur) Bini Ngangom sentenced Konsam Poirei @ Inaoton of Charangpat Maning Leikai in judicial custody on charge of rape. The petition was filed by his second wife who married to Kongsam Poirei after knowing that he is the father of 3 children.
Denouncing the judgment the people of Charangpat today staged a sit-in-protest at Charangpat Maning Leikai Community Hall yesterday.
Placards with slogans –"save the life of the three kids", "we condemn court's ruling" were displayed during the protest.
A protestor while speaking to reporters said that Konsam Poirei and Rebika (d/o late H. Gopal sharma of Pishumthong) both had been staying for around 10 years after they married in 2009. When Rebika married to Poirei she even bought cloths for the three children. It was her family who forced to leave her husband on the ground that Poriei had already children.
After that Rebika got married to another person identified as Khamba @ Bobo of Mayang Imphal Upokpi Awang Leikai and have a 7 years old baby. Poirei too had married another wife.
The sudden order of the court to convict Poirei on charge of harassing and raping Rebika is not reasonable, said the protestor.
"If Poirei is punishable , Rebika should also be equally punished", the local protestor said.
It was after the order of the court that the two daughters tried committing suicide (March 9).
The protestors further questioned on who will be responsible if anything happen to the three children. They appealed the court to give equal punishment to both Poirei and Rebika so that justice is delivered.