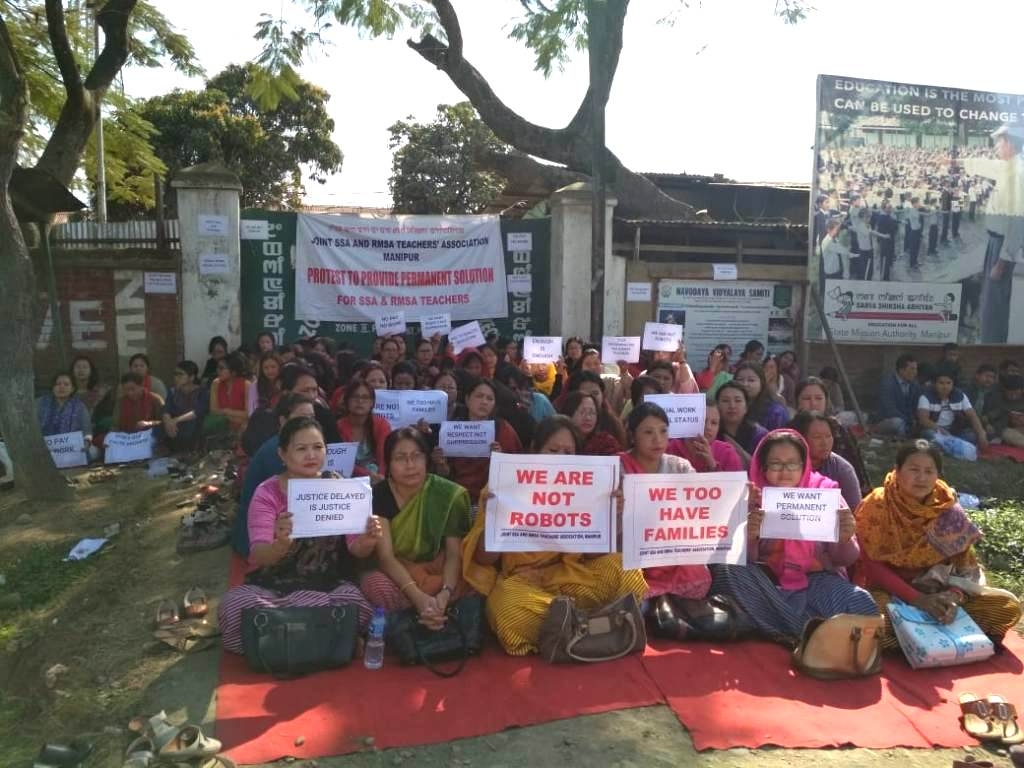 IT News
Imphal Feb 14
Teachers of Sarva Shiksha Abhiyan (SSA) and Rashtriya Madhyamik Shiksha Abhiyan (RMSA) today staged sit-in-protests at Porompat ZEO office Zone 2 organised by Joint SSA and RMSA Teachers' Association Manipur to provide permanent solution to the problem being faced by SSA and RMSA teachers.
Speaking to media persons SSA teacher Kh.Tararani said that the government has been neglecting the teachers of SSA and RMSA. She said that they have been tolerating for the past 8/9 months even as their salary for the last 8/9 months remain pending. She demanded to give their due salary at the earliest.
 She also asked the government why they were not given any facilities of being a regular teacher as they were appointed on regular basis.
Kh Tararani demanded the government to give teachers of SSA and RMSA a similar rights and facilities like other teachers if the state education department. She said that there is no line of promotion for them and also demanded the government to formulate a mechanism for promotion of the SSA and RMSA teachers.
Kh Tararani warned the government that if their demands weren't fulfilled before the code of conduct of the upcoming election, the teachers will not take any duties of the election and also will boycott any exam.
She further said that they are well prepared to take up more intense agitation.
Placards saying Equal work equal status, Stop discriminating SSA and RMSA teachers, No pay No work were held by the teachers.
Similar protest was also held at Khuyathong ZEO office Zone 1.