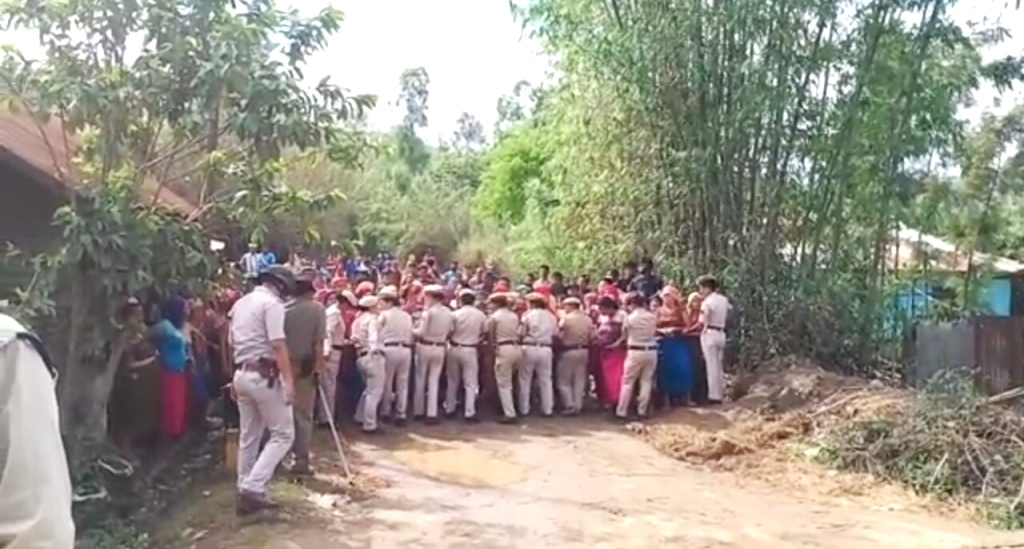 IT News
Imphal, June 8,
After staging series of protest against the government plan to establish Food Park at Yaithibi Loukol in Thoubal district which was acquired for construction of National Sports University, large number of people today came on the street and blocked National Highway for some hours.
Police team which rushed to the spot fired several round of tear gas shells.
One house was damaged and 4 women were injured in the police action . The police team also picked up 4 men and 5 women from the spot.  District Magistrate had imposed prohibition under section 144 of the CrPC  to prevent any untoward incident.
The locals of the area have been opposing establishment of any government project or scheme other then construction of the National Sports University on the ground that the land were acquired for construction of the National Sports University which is now shifted at some other place.
The 4 injured persons have been identified as Keisham Ibema (35) W/o. K.Ibungo, Haobijam Ibecha (40) W/o. H. Raju, Kangujam Sundari (30) W/o. K. Ashakumar and Wangkheimayum Cheneton W/o. Bhorot. They were immediately rushed to District Hospital Thoubal for treatment. A house belonging to one Rajeshwor, wife of Kumar was also damaged after a portion of it started burning after being hit by a tear gas shell. Police arrested 9 persons in connection with the incident have been identified as W. Ibecha, K. Thaja, K. Bilashini, Y. Tombisana, Samu, Larji, Raghu, Dinesh and Ramsing.
Locals of 44- Yaithibi Loukol and land donors association had been urging the State government for return of the land as they are not going to construct the National Sports University. The association also threatens dire consequences if any other project are taken up instead of the National Sport University.
A statement by Manihar, secretary of the association said that the then Chief Minister O.Ibobi government promised to construct National Sport University at Yaithibi Loukol in 2014, besides promising government jobs to unemployed youths. 
He added that they have no objection to the acquiring of the cultivation lands in view of the need of supports of the people in taking up welfare programme of the people
The NSU has been shifted and started construction elsewhere but at Yaithibi Loukol,  the government plans to construct 100 acre of mega food park, 150 acre of logistic park and 100 acre of Jewellers park.
He further said that locals of 44- Yaithibi loukol will not accept the plan.
Meanwhile, before 2/3 days Deputy Commissioner Thoubal, had already instructed and started demarcation at Langthabal Khunou. The locals also opposed the actions of DC Thoubal.