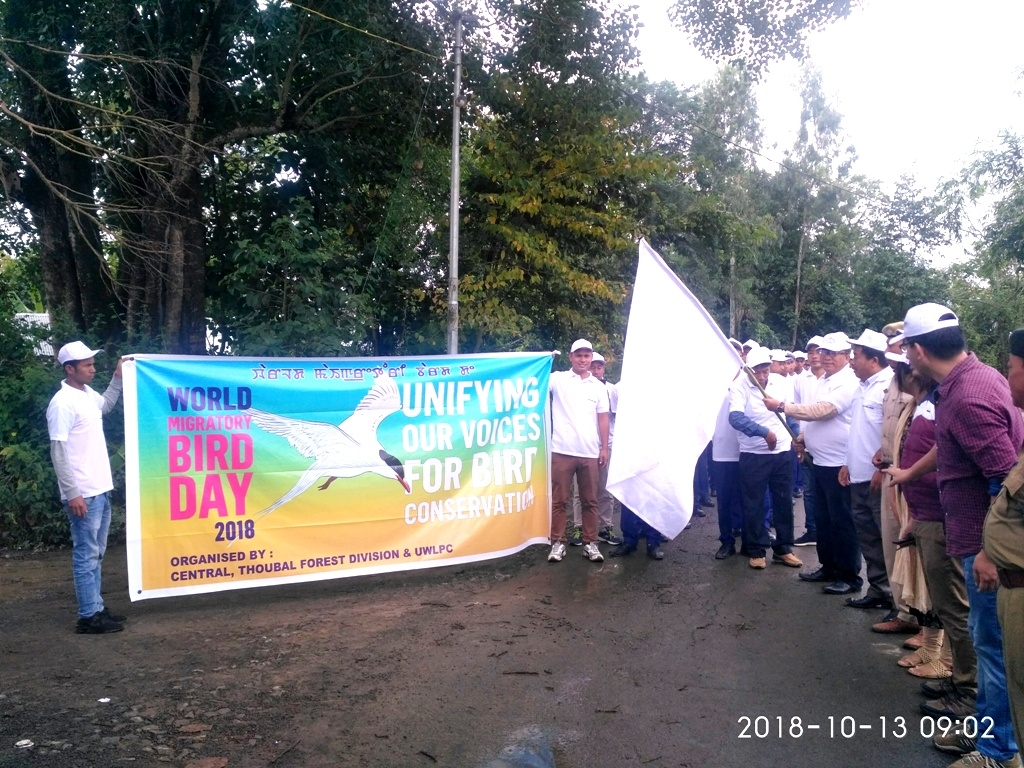 IT News
Imphal Oct 3,
A Mass Rally was flagged off by Chief Conservator of Forest (CCF) Th Mohendra Pratap today from Mayang Imphal to Charoibung as part of the observation of 'World Migratory Bird Day – 2018'under the theme 'Unifying Our Voices for Bird Conservation'. The Rally was taken out to spread the message for protecting the different migratory birds from different parts of the world and was organized by Central Forest Division, Thoubal Forest Division along with Unique Wildlife Protection Committee (UWPC). After traversing different places, the Rally converged at Puja Mandop of Mayang Imphal Bazar where a WhatsApp Video was released.
Speaking on the occasion, CCF Mohendra Prarap states that the World Migratory Day is observed worldwide on the 2nd Saturdays of May and October every year and made a public request to refrain from harming the birds coming from different and far off places by using nets, snares, shooting or any form of hunting while canvassing support from the public in protecting the migratory birds. He also stressed on the role and importance of these migrating birds in preserving our ecology, terming them as vital agents of our ecosystems.
RK Amarjit- DFO Central Forest, Joykumar- Conservator Central Forest, L Debala- DFO Thoubal, N Munal- Range Officer Kakching along with students from various schools and members of local clubs took part in the rally.