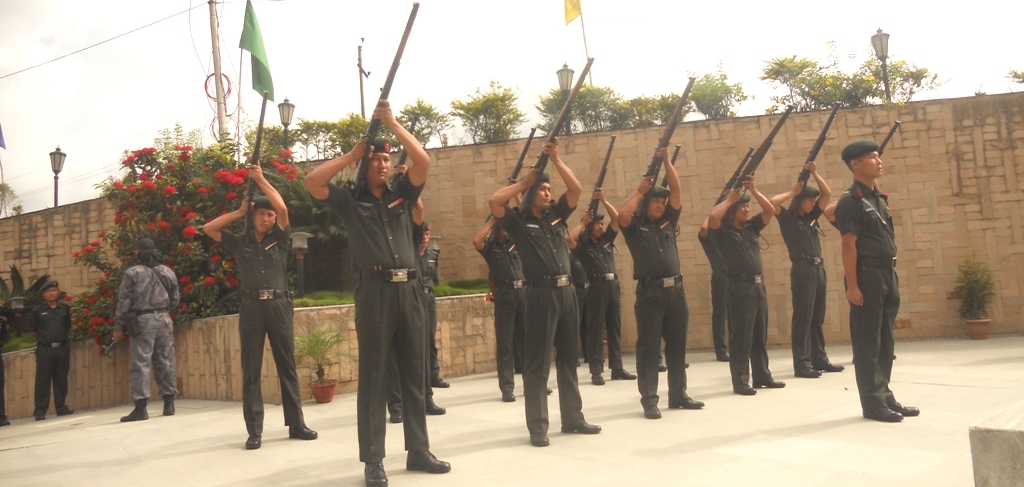 Manipur paid befitting tributes to the martyrs of Inglo- Manipuri War in 1891 today at the 124thPatriots' Day celebration at different places.
The State Government organized the state function of the Patriots' Day observance at Bir Tikendrajit Park.
Early today morning at around 8 am Chief Minister, Okram Ibobi Singh, Speaker Th. Lokeshwar and Deputy Chief Minister, Gaikhangam along with other Ministers, MLAs and government top officials paid floral tribute to the memorials site at Hicham Yaichampat, Moirangkhom and also at the Complex of Thangal General Temple, Palace Compound here. A contingent of the 1st MR paid gun salute to the martyrs who had laid down their lives to safeguard the freedom of the erstwhile kingdom from the hands of the British army.
Later, the dignitaries proceeded towards Kangla Uttra Sanglen on foot and laid wreaths to the martyrs of historic Anglo-Manipuri War heroes.
In the afternoon, the Chief Ministers along with other dignitaries paid floral tributes at Shaheed Minar, where the state function was organised. A Contingent of Manipur Rifles also offered gun salutes as a mark of homage to the patriots.
Various other civil society organisations, Government institutions also observed the day at its respective localities.  Regional Institute of Medical Sciences (RIMS) organized the Patriots Day observance at its Examination hall with Director of RIMS, Prof S Rita; Deputy Director, Y Rajendra Singh and Medical Superintendent, Prof. M Amuba.
The Director along with other officials of the institute paid floral tribute to patriots- Bir Tikendrajit and Thangal General.
Staffs of Human Resource Development, Ghari paid tribute to the martyrs during a celebration held at its school campus.