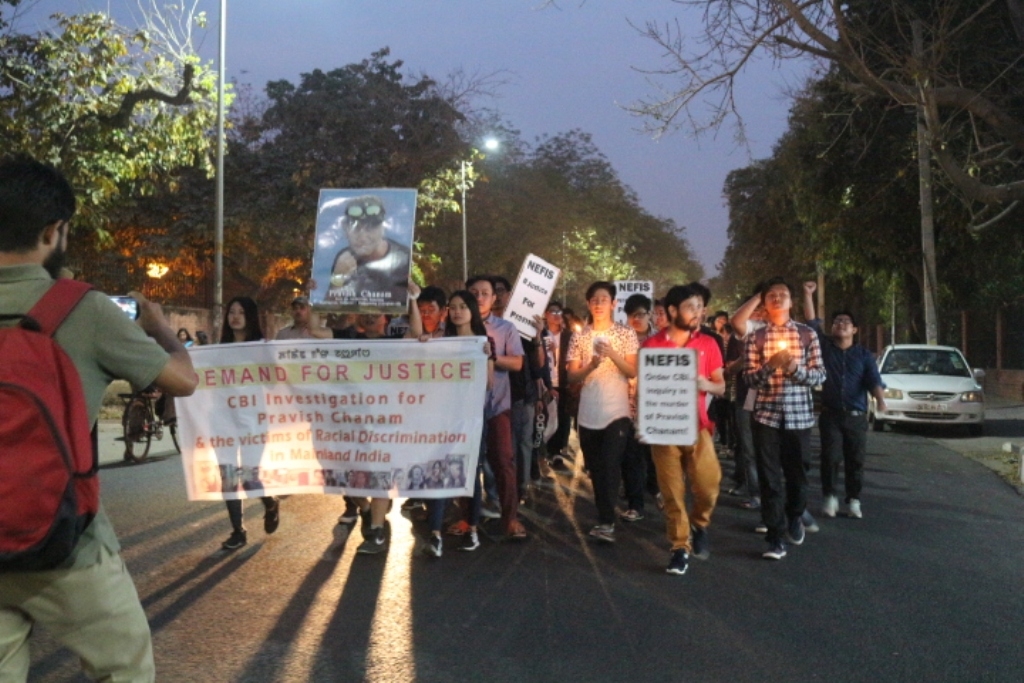 Imphal, March 21: Parents and siblings of Pravish Chanam along with the convener of North-East Forum for International Solidarity (NEFIS) today met Union Minister for Home Affairs, Rajnath Singh seeking CBI inquiry into his death.
It should be known that already in this case many memoranda have been submitted to Union Home Ministry and today too at the meeting Shri Singh was implored by Pravish's tearful parents to expedite justice for them. Rajnath Singh assured the deceased's family that his office will positively intervene in the matter. The meeting was held after hundreds of students and concerned individuals and organizations yesterday participated in a Candle Light March titled 'North-East People's Lives Matter' organized by NEFIS to demand justice for Manipuri youth, Pravish Chanam.
Pravish Chanam had come to Delhi on a visit and had been residing in Safdarjung, Delhi with his friends. On 8th September 2017, he went to Knowledge Park in Noida to attend a music concert with his friends and went missing after the concert, to be later found dead. The Noida Police had been making investigation into the circumstances which led to his death. But the shoddy inquiry conducted by the police as well as the subsequent details of the case strongly pointed towards the dubious role of police personnel themselves in the case. Consequently, the victim's family demanded an inquiry by Central Bureau of Investigation into the case. Since, the matter fell under the authority of UP Govt, the deceased's family requested the Manipur Govt to ask UP Chief Minister to transfer the case to CBI.
It should be noted that despite UP Govt assuring the Manipur Govt that the case would be transferred to the CBI, no further steps have been taken in this direction. This amounts to a blatant attempt to shield the culprits by allowing them ample time to destroy evidence which may implicate them in future. This wilful negligence is also an indication of the states' and central government's apathy towards North-East people. Moreover, Pravish's incident is not an isolated case of racism against North-East people. NEFIS believes that it is high time that people stood against racism and pledged to oppose incidents of racism against the people from North-East. NEFIS has pledged to intensify its struggle, if justice is not speedily ensured to the deceased.