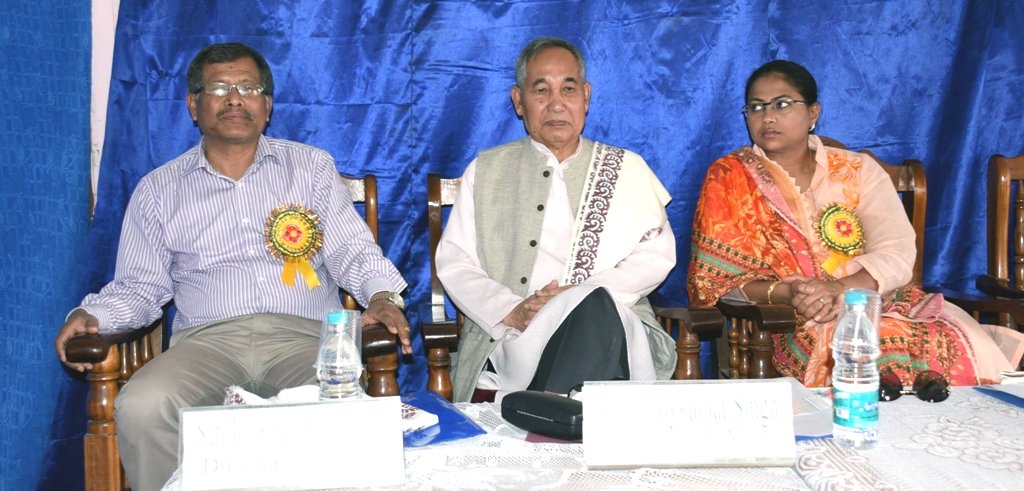 Imphal, March 21: Deputy Chief Minister Yumnam Joykumar Singh today inaugurated a 'Four Days Residential Training Workshop on Hands on Science' at Youth Hostel in Khuman Lampak, Imphal. The training which is organised by Manipur Science & Technology Council (MASTEC) in association with Vigyan Prasar, Noida of Department of Science and Technology, Government of India, aims to impart scientific knowledge in the easiest way to school teachers mostly from hill districts of Manipur.
Speaking at the inaugural function, Deputy Chief Minister said, teachers should arouse the interest of students and make them think what science is all about. He said, thinking, imagination and observation are the basic steps through which we can understand the basic principles of science. Most of the students are good in technology learning but learning pure science are lacking behind. We need to focus on learning pure science. Shri Joykumar Singh further said that, students in the valley are good in science and mathematics but most of the students in the hills are lacking behind in these subjects. Therefore, teachers should motivate them to learn these two subjects. Science cannot be taught without the strong base of mathematics. He also stated that interactive learning process will help to arouse students' interest and it will also be helpful to impart them the basic knowledge of science in the school level. Such training will help teachers to focus on imparting knowledge of science in the easiest way to the students, he added.
Professor B. N. Das, renowned Physicist, who is also a Resource person in the training workshop said, concept of science is very important in human lives. He said, most of the process in our life is associated with scientific ideas and therefore imparting scientific knowledge and sharing scientific ideas to the younger generation are important. Scientific ideas will come first and after that technology will automatically come for its application.
Secretary (Science & Technology) Ms. Nidhi Kesarwani said, teachers should motivate their students to impart knowledge of science in the schools. She said, motivation is the basic step towards teaching and teachers should also understand the curiosity of their students. It is in this direction that the department has been working and such training will definitely help teachers to impart scientific knowledge to students in the easiest way.
Director (MASTEC) Shri Th. Surendranath Singh also spoke on the importance of imparting scientific knowledge to the students in the school level. Altogether, 55 teachers from hill districts who have been nominated by Directorate of Education (S) attended the training.