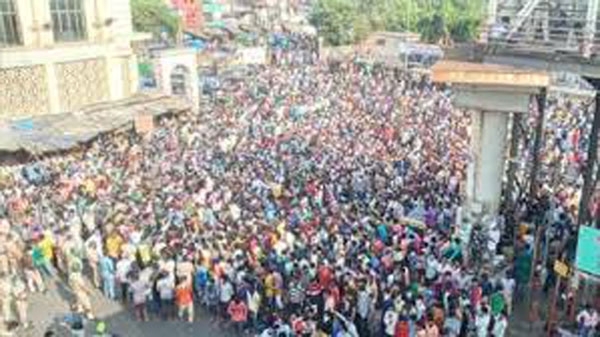 By Raju Vernekar
Mumbai, April 15
One Vinay Dubey, stated to be the President of the Uttar Bharatiya Sanghatana was arrested by police for inciting migrant workers and staging agitation at Bandra West railway station, on Tuesday evening, even as three FIRs were registered by police, in connection with the mass gathering of migrant workers.
The first FIR was filed against 800 to 1,000 people who had assembled in Bandra despite appeals by police. The police resumed to lathi-charge to disperse the crowd. The second FIR was registered against Dubey who had allegedly incited and asked migrants to start walking towards their native homes. Dubey had shared video blogs and social media posts to invite migrants in numbers.
Dubey had also warned the government of possible protests if trains services are not provided to migrants to reach their native places in areas like Uttar Pradesh, Bihar, Jharkhand, Orissa, West Bengal. He was arrested from his residence in Surili, Navi Mumbai and then handed over to the Mumbai Police. He is presently in the custody of the Bandra police. The third FIR was against a news reporter for running fake news that train services would be resumed and special trains for migrants will be started.
Dube urged  migrant workers to gather at Bandra terminus with a slogan "Chalo Ghar Ki Or" (proceed to your native homes) and demand that the state government immediately provide transport to then.
The workers in large number assembled at Bandra West railway station, hoping to get back to their native places expecting the lockdown to end on Tuesday. However it was extended till 3 May.  The workers began sit in dharna on the spot.
Those migrants began congregating outside Bandra bus depot in a large number. However they did not carry any baggage. The trains bound for Northern India and Western India are scheduled regularly from the Bandra Terminus, which is towards Bandra East side and far away from Bandra West local railway station. As such it was intriguing how so many people gathered at short notice.
The local residents estimated that there were around 3,000 migrants gathered at the place.  They demanded transport facilities so that they can go back to their native places, BJP MLA Ashish Shelar,said. The workers were from UP, Bihar and West Bengal.
The people gathered at the station were mostly daily wage labourers who were unable to earn since the government imposed a nationwide lockdown on March 25. The lockdown was supposed to end on April 14, but Prime Minister Narendra Modi on Tuesday declared that the lockdown was extended till May 3.
The daily wage earners, included those who reside on rent in slums in the nearby Patel Nagri locality. The Congress MLA  Zeeshan Siddique and other local leaders persuaded the migrant workers to not go back to their hometowns as they may carry the infection with them.
Maharashtra Cabinet minister Aslam Sheikh said that there was no question of food and food and rations are being provided to the workers. Earlier, Union Home Minister Amit Shah had assured that the arrangement will be made to send them back to their home after the lockdown ended, but now the lockdown has been extended so the people are anxious," Sheikh added.
As the news of the agitation spread out, Union Home Minister Amit Shah telephonically spoke to Maharashtra Chief Minister Uddhav Thackeray and asked him to take all precautions to ensure that a war against "COVID 19" doesn't become weak. He also assured all help to the Maharashtra Government from the centre.
In similar incident at Surat in Gujarat (about 278 km by road from Mumbai), workers from diamond and garment units, staged a dharna in Varachcha, demanding transport to go back to their native places. The workers hail mostly from Odisha, Uttar Pradesh and Bihar, who handle diamond polishing work and some of them work in garment factories.   
No sooner news of the agitation broke out, local MLA and Minister of Health Kishor Kanani rushed to the spot and pacified the agitators. He also assured them that the government would ensure food for them. A police officer said that the jobless workers are being food pockets with the help from an NGO and the situation was under control.