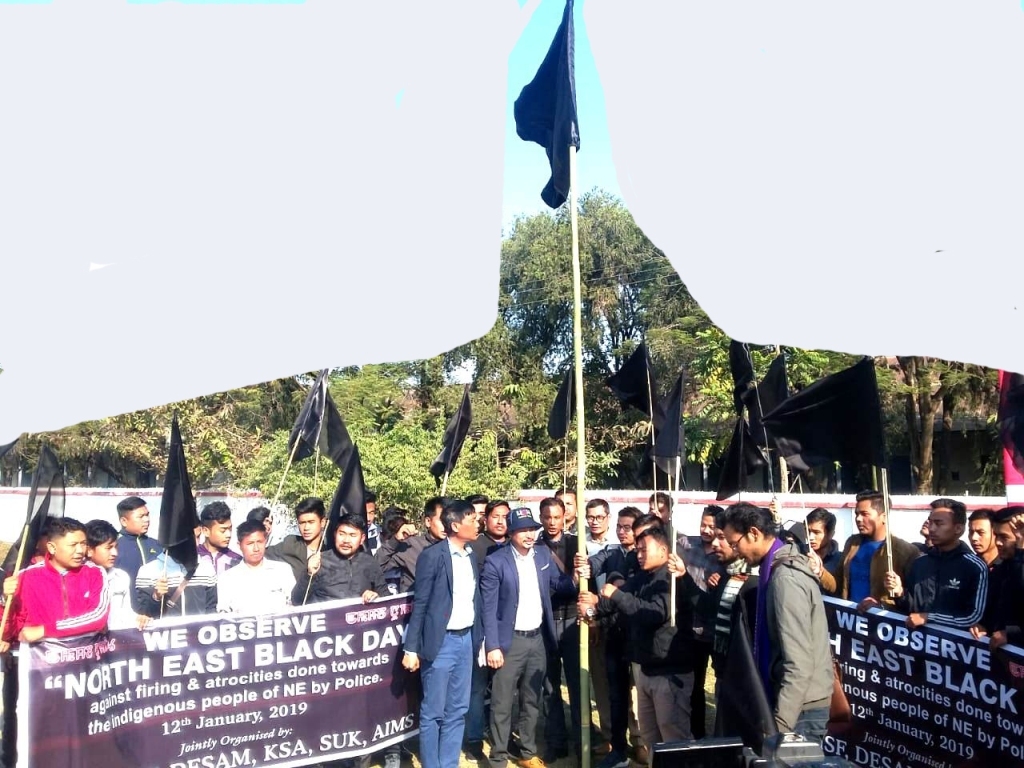 IT News
Imphal, Jan12
The North East Students' Organisation (NESO) observed 'Black Day' in protest against the Citizenship Amendment Bill and also police excess at Tripura, All Manipur Students' Union (AMSU) a component of the NESO along with other students bodies of the state  today hoisted black flag at its office premises. DESAM, MSF, KSA , SUK and AIMS etc. jointly organised the mass protest.
Protestors against the Bill in Tripura were opened fire by the Madhabbari police during the protest on January 8. The Manipurs' Students' body strongly condemn the atrocities committed by the Tripura Police and the denial of the Tripura Government while trying to meet them
President of AMSU, Manjit speaking to media persons said that the Black day is observed against the atrocities committed against the protestors at Imphal and Tripura.
The police had fired rubber bullets and used tear gas to chase away the protesters.
Here at Imphal too the protest demonstration has been sabotaged by the police using excessive force injuring four of the protestors. Manjit called on the people to stand together against the Citizenship Amendment Bill. He also warn serious form of agitation if the CAB is not withdraw.
At Tripura, after the firing incident, prohibitory order under Section 144 of the CrPC had been imposed for an indefinite period at Tripura's Madhabbari and adjacent areas.
The NESO comprises of Khasi Students' Union, All Assam Students' Union, Naga Students' Federation, Mizo Zirlai Pawi, Twipra Students' Federation, All Manipur Students' Union, Garo Students' Union and All Arunachal Pradesh Students' Union.
As per report, the security forces also attacked the ambulance, which was carrying the injured to the hospital.
NESO adviser Samujjal Bhattacharyya slammed the Tripura Government and Chief minister Biplab Kumar Deb and stated that Deb is "incapable" of understanding the pain of indigenous people.