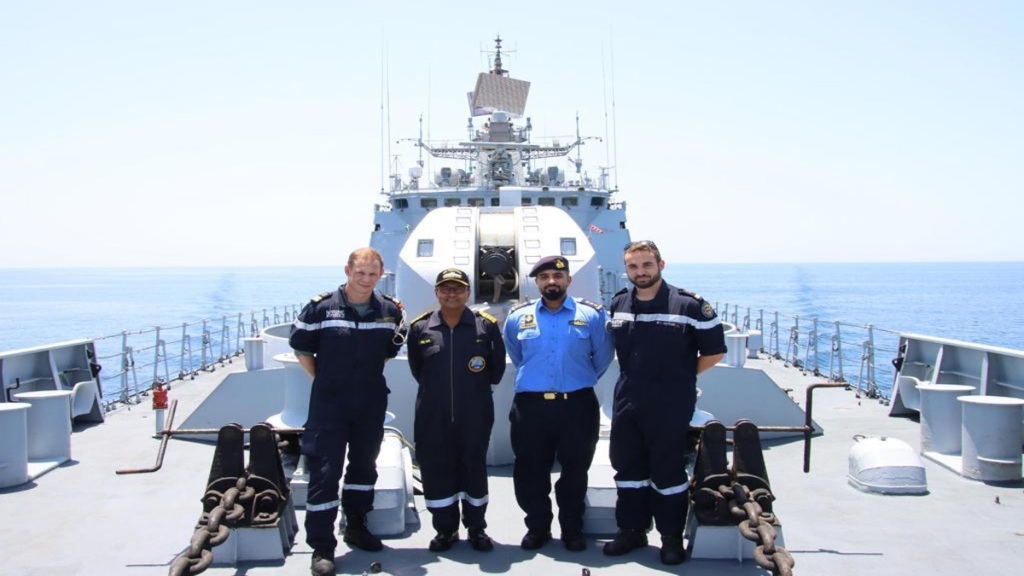 By Raju Vernekar
Mumbai, June 10:

The warships and aircraft of India, France and UAE participated in the maiden Maritime Partnership Exercise held in the Gulf of Oman early this week.
Indian Navy's "INS Tarkash", French Ship "Surcouf", with French Rafale, UAE Dash 8 MPA and UAE Navy Maritime Patrol Aircraft participated in the exercise. The first ever edition of India, France and UAE Maritime Partnership Exercise was held on Wednesday and Thursday.
The exercise witnessed a wide spectrum of naval operations such as Surface Warfare, involving tactical firing and Drills for Missile engagements on surface targets, Helicopter Cross Deck Landing Operations, Advanced Air Defence Exercise and Boarding operations and close quarter manoeuvres. It also included cross embarkation of personnel for exchange of best practises, an official statement read.
The maiden exercise aimed at enhancing trilateral cooperation between the three navies and pave way for adopting measures towards addressing traditional and non-traditional threats in the maritime environment. It also enhanced collaboration in ensuring safety of mercantile trade and freedom of navigation at high seas in the region. The exercise also saw cross embarkation of personnel that facilitated exchange of best practices.
The bilateral exercises are being held regularly by Indian Navy with participation of friendly countries. The Malabar series of exercises began as an annual bilateral naval exercise between India and the US in 1992. Japan joined the Naval Exercises in 2015 and Malabar- 2020 saw the participation of the Australian Navy as well.
"Milan" is another important exercise. This biennial multilateral naval exercise was incepted by the Indian Navy in 1995 at Andaman and Nicobar Command. The latest edition of Exercise "Milan" held last year, with the theme "Camaraderie – Cohesion – Collaboration". It aimed at projecting India as a responsible maritime power. It also witnessed its largest-ever participation, with over 40 countries sending their warships and high-level delegations.