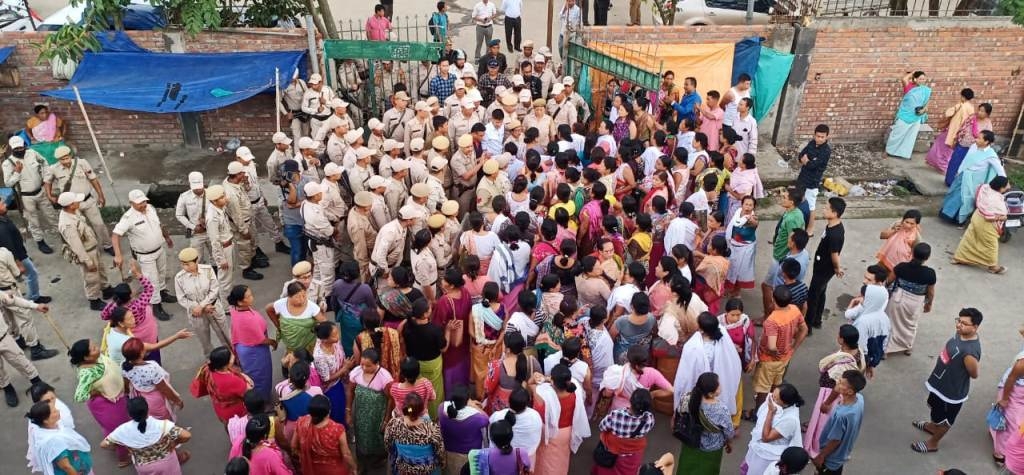 IT News
Imphal, Aug 1,
The wrath of mothers and brothers of Babysana , who was cremated yesterday at Haraorou still seem to burn the hearts as Imphal witness hue and cry demanding justice to be delivered at the earliest , when bail plea hearing of Landhoni , the Principal of Standard Robarth School started in the CJM Imphal Cheirap Court.
After hearing of the plea the CJM –IW had rejected the bail plea.
Earlier, when the hearing was going on confrontation took place between the large number of people who thronged on to Cheirap Court complex and the police. As the mob protesting justice for Babysana started throwing eggs towards the police team, the police team in retaliation resorted to fire tear gas shells.
Principal of Standard Robarth School Landhoni and another school authority today had to appear at the CJM-IW as a part of the enquiry being conducted by the special team. Our reporter could not confirmed whether the two had come to the court, however, it was reported that the anger of the people finally turn violent after they were informed that the hearing could not be proceeded as the counsel of Landhoni and party did not show up at the CJM.
Pheiroijam Robinson, son of Landhoni, the Principal of Standard Robarth School was yesterday remanded in police custody for 7 days after producing to the CJM yesterday.