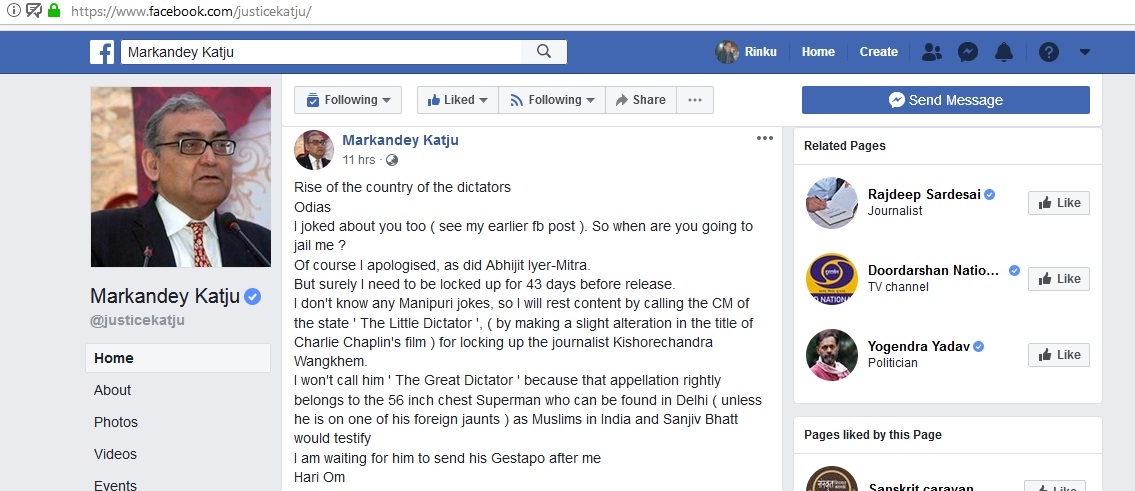 IT News
Imphal, Dec 7,
Former Justice Markandey Katju, former Chairman, Press Council of India in his Facebook post has stated the Chief Minister of Manipur as a ' The Little Dictator'. The controversial justice was reacting to the detention of TV Journalist Wangkhem Kishorchand under NSA.
"I don't know any Manipuri jokes, so I will rest content by calling the CM of the state ' The Little Dictator', ( by making a slight alteration in the title of Charlie Chaplin's film ) for locking up the journalist Kishorchandra Wangkhem", wrote Justice Katju.
Prior to his appointment as Chairman, Press Council of India, Justice Markandey Katju served as a Judge at the Supreme Court of India. Before being elevated as a judge to the Supreme Court, he had earlier served as the Chief Justice of Delhi High Court, Madras High Court and as acting Chief Justice of Allahabad High Court.
"I won't call him ' The Great Dictator ' because that appellation rightly belongs to the 56 inch chest Superman who can be found in Delhi ( unless he is on one of his foreign jaunts ) as Muslims in India and Sanjiv Bhatt would testify", Katju continue to his post.
In his earlier post dated Dec 2, Justice Markandey Katju had question whether there is a democracy in Manipur?
"Is there democracy in Manipur? In a democracy had the right to criticize the government. It is part of the freedom of Speech guaranteed by Article 19(1)(a) of the Constitution. But evidently that provision does not exist in Manipur. A Journalist Kishorchand Wangkhem was arrested for criticizing the CM and slapped with some penal charges when he got bail after 5 days in police custody he was immediately re-arrested and locked up under National Security Act", Katju wrote.
The Justice also suggested a habeas corpus be filed immediately citing his judgment in Rekha Vs State of Tamil Nadu.