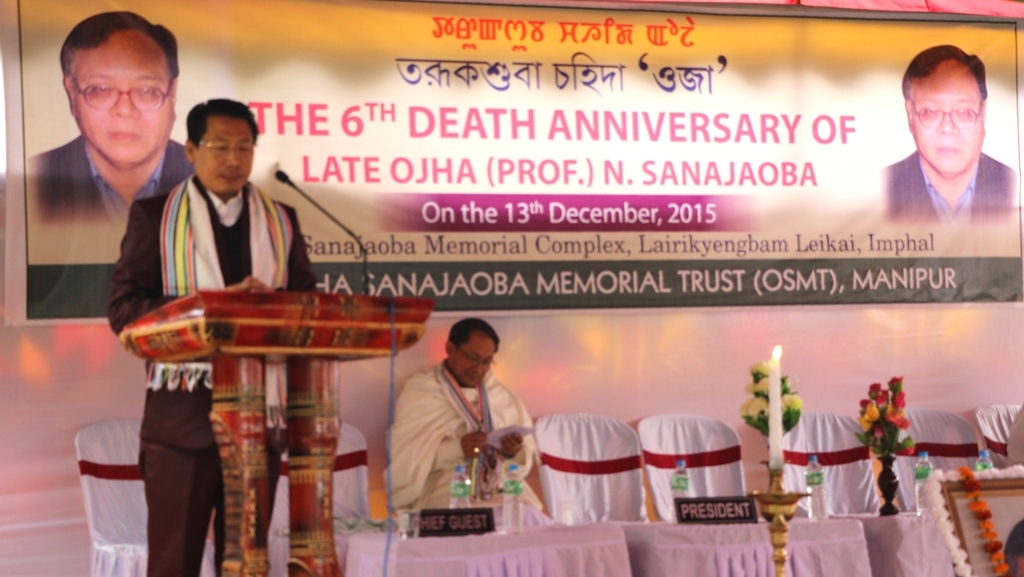 I wish his return to the making of a new Manipur – Th. Iboyaima
Fitting tribute was paid today to late Professor Norem Sanajaoba on occasion of the 6th Death Anniversary observed today at Ojha Sanajaoba memorial Complex, Lairekyengpham Makha leikai.
People who came to pay respect to the late professor popularly known to the people as Ojha (a pedagogue) paid floral tribute at the memorial site starting from 10 am today.
A memorial function of the late Professor was also organized at the memorial complex. Thounoajam Iboyaima, President Irabot Foundation, Manipur, Professor N. Rajmuhon, President, Ojha Sanajaoba Memorial trust (OSMT), Dr. Immanuel Zarzosang Varte, Exceutive Director, CORE, MD. Salaudin, Director MOBEDS and Executive Officer, State Haj Committee, Manipur, Dr. Gaikhamsin Riamei, Co-ordinator, Center for Human Rights and DFuties Education and L. memchoubi, President , Poirei leimarol Apunba Meira Paibi Lup Manipur attended as Chief guest, President and Guests of honour respectively.
Speaking on the occasion, Chief Guest of the memorial function Thounoajam Iboyaima expressed his wishes to see the late professor in the making of the new Manipur once again.
"Everything he wrote is commendable, there is nothing controversial or objectionable to any of the books or articles written by Professor N Sanajaoba during his life time", Iboyaima who is crossing 100 years said. He further added that books written by him contents various facts on how Manipur can regain its lost freedom by comparing with the history or events of other country.
Professor Rajmuhon, who presided the function retrospect the life of Ojha and term him as multi facet personality specialized in finding path to resolve critical problems and challenges that the society have come across in his time. Revisiting the content of the book called "Manipur Past and Present" written by the late professor in three volumes, Prof. Rajmuhon highlighted its relevant in the context of India's Act East Policy.
"With the country's policy towards the South East Asia Manipur will be certainly hit by the impact of Globalization", said Professor Rajmuhon .
He further added that Sanajaoba also took important role for the rights of the Indigenous people and also for preservation of medical and indigenous plant, culture and tradition etc.
Prof. N sanjaoba was borned on December 30, 1945 and left us all for heavenly abode on this day of 2009. He was a topper in LLB and a Gold medalist in LLM in Pune University. He also completed his PhD in Law at Guwahati University without a guide.