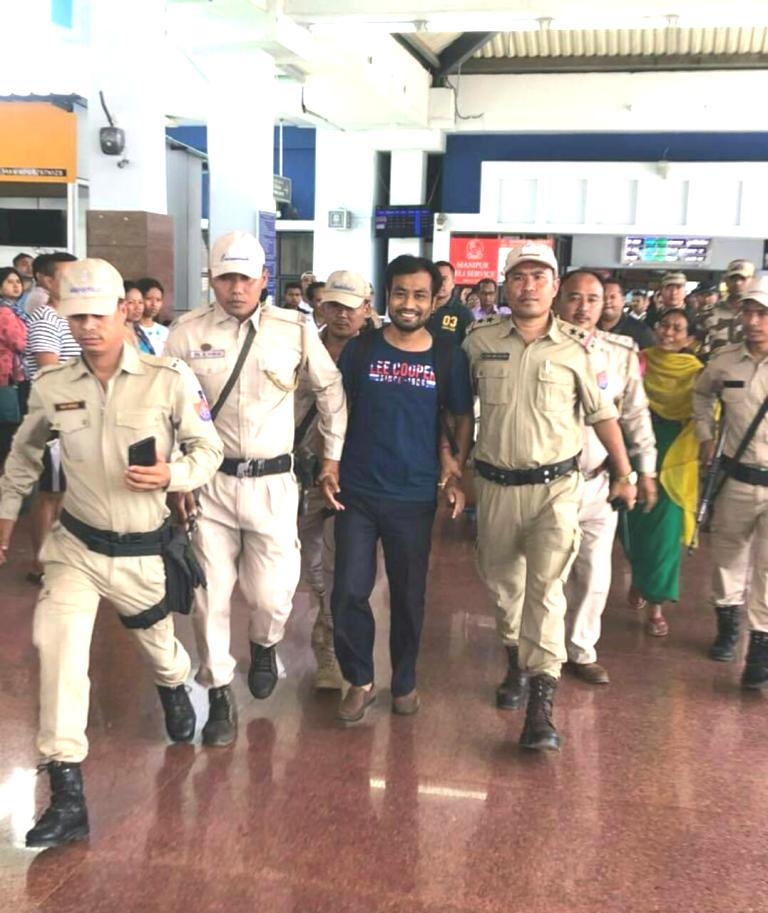 IT News
Imphal, Aug 11,
Jail escaped NSA detainee Sapamcha Kangleipal was arrested by a Special Delhi Police team, as leader of Maoist Communist Party Manipur along with two others including   Wahengbam Thoi Luwang alias Thawai Lakpa and Kangabam Roshan of the Peoples' War Group (KCP), another armed rebel group arrested somewhere in Kotwala area in Bihar few days back were today brought back to Imphal by a team of Manipur Police.
Sapamcha Kangleipal, leader of the Maoist Communist Party Manipur as claimed by the police, reached Imphal airport at around 11 am today in an Indigo flight while the two other KCP leaders were brought in separate flights today.
Sapam Kangleipal alias Chirangelen alias Sarat (38) s/o S Shyamsunder of Nongada Awang Leikai, was granted transit remand by the court in connection with a case filed against him in December 2008 and brought to Imphal. The court granted 6 days transit remand and police will produce him before the Court of Chief Judicial Magistrate, Imphal East.
Similarly KCP PWG leader Wahengbam Thoi Luwang alias Thawai Lakpa (36) s/o (L) W Thaba of Wabagai Terapishak and Kangabam Roshan (27) s/o (L) K Gogo of Brahmapur Thangapat Mapal, were also produced with a prayer for 6 days transit remand to produce them before the Court of Chief Judicial Magistrate, Imphal West, in connection with an FIR registered against them by Lamphel PS in May this year.
It may be mentioned that Sapamcha Kangleipal, was arrested on May 7, 2008 from Manipur Press Club on seditious charge and by the then government for his dissent against the decision of the then government for setting up of Special Police Officers (SPO) by allotting guns to the villagers of Heirok in the similar way of Salwa Judum.
On May 13, 2008 he was produced before the Chief Judicial magistrate and the court released him on bail on the ground that the sedition charge against him was not genuine. However, as he came out of the court room he was again detained by the state authority under National Security Act (NSA).
After staying in the Sajiwa Jail for some months jail authority admitted him at JN Hospital (now JNIMS) after he developed Erosine Gastritis .
On the adjoining night of 28 and 29 December, 2008 Sapamcha Kangleipal escaped from the security ward at the then JN Hospital. Since then police had been hunting him.