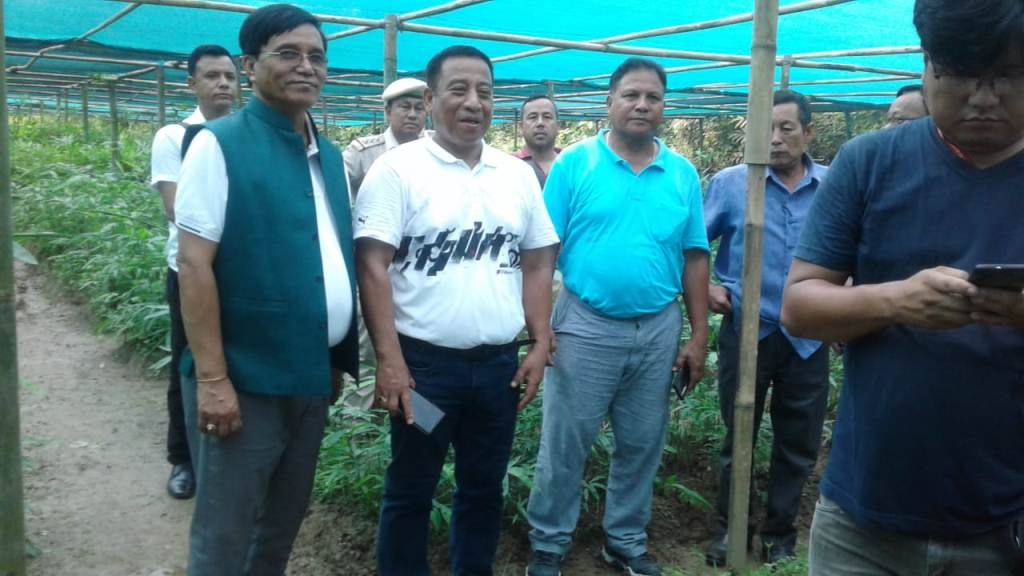 DIPR
Jiribam, August 24,
Forest and Environment Minister Thounaojam Shyamkumar Yesterday appealed to the people of the State to collectively fight and reduce the effects of climate change as the departments cannot combat the issue without the support of the citizens.
He said collective action is needed to address the issue of climate change and to achieve sooner, the Chief Minister's vision of a Green Manipur. Minister Shyamkunar made the statement during the inspection tour of the Baiboni nursery centre at Jirimukh range, Jiribam district. The bamboo nursery centre was established in the 2018-19, funded by the National Bamboo Mission, with the target to prepare seedlings of big varieties of bamboos.
He said that the State Government is committed to combat the issue and has launched several initiatives and various missions targeted towards environmental conservation. As part of initiatives, Forest Department is preparing required seedlings, focusing on the suitable plants and trees of the specific area and location.
Stating that bamboo is highly suitable to the soil and climatic condition of Jiribam, he expressed his hope that the bamboo nursery centre will help in increasing the income of the people of the area as well as replacing the traditional practice of jhum cultivation. He stressed on the benefits of bamboos which is used as construction material as well as popular food cuisine. Bamboo will be planted in the district where there is no green vegetation, he added.
Ch. Ibomcha Singh, DFO, Jiribam said that the target is to prepare more than 1 lakh bamboo seedlings of various varieties, focusing mainly on big varieties of bamboos. He said that the focus is on three varieties Bambusa Tulda (unal), Bamboosa Bambos (chingsanei) and Bamboos Polyferus. He said the estimate cost will be around Rs 16 lakh. Stating that the Bamboos Polyferus is imported from outside the State as it is not available in the State, he said that Bamboosa Bambos has medical value.
Later the Minister also visited the Jirimukh Forest Beat office and Jirimukh packet post where he was accompanied by Forest officials led by DFO and police officials led by Jiribam SP.