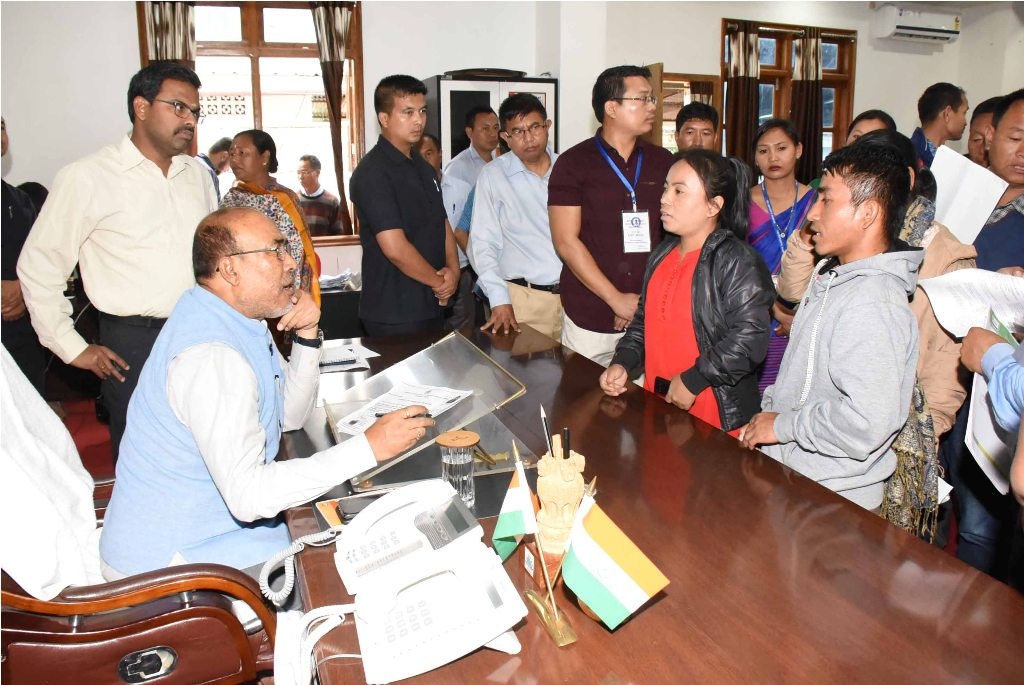 DIPR
Imphal, April 10,
Chief Minister N. Biren Singh said that the government need the love and support of the people for the successful of the 'Go to the Village' mission which is set to be launched on 1st May 2018. He was speaking to media persons on the sideline of monthly Hill Leaders' Day at the Durbar Hall of Chief Minister's Secretariat today.
 Mentioning that a Committee would be formed at the Panchayat and ADC level of the State, Chief Minister said that representatives of Panchayati Raj Institution and Autonomous District Council would be involved and consulted to identify the number of beneficiaries under various schemes. He mentioned that the much awaited 'mission' would be launched simultaneously in different parts of the State. He said that such mission would help in building a strong relationship and bridge the gap between the people and the government in the region.
Chief Minister N. Biren Singh said that large number of people came to meet him on the occasion of Hill Leaders' day. Mentioning that the hill areas of the State have been underdeveloped for long period of time, Chief Minister stated that the 'Hill Leaders' Day is an opportunity given to the Hill Leaders and Civil societies operating in Hill areas to highlight/address their grievances to the government. The government need to provide extra effort to make development in hill areas of the State, he added. Chief Minister said that among several grievances, he is deeply shocked to hear that a family where the entire members are disabled and has been living without any support from the government till now. Out of four, three members are blind and one is diagnosed with psychiatric problem, he added. He stated that the government would discuss the matter and to provide a government job to one of the family member for livelihood of the family in the next Cabinet meeting.
Speaking to the media persons on the row over the construction of Imphal East District Hospital, Chief Minister said that there were some disputes regarding the allocation of land for building of District Hospital at Sagolmang area. The present government decided to build the hospital in an area where there is no land dispute as the sanctioned funds for the construction of district hospital would have to be returned if not utilized. The government would further discussed over the issue, he added.
Reiterating the allegations made by the Congress Party on 'undeclared emergency', Chief Minister stated that the present government bring back the happiness and smiles on the faces of the people of the State. In the last one year, people don't experience police atrocities on innocent people and students in the State, he added.