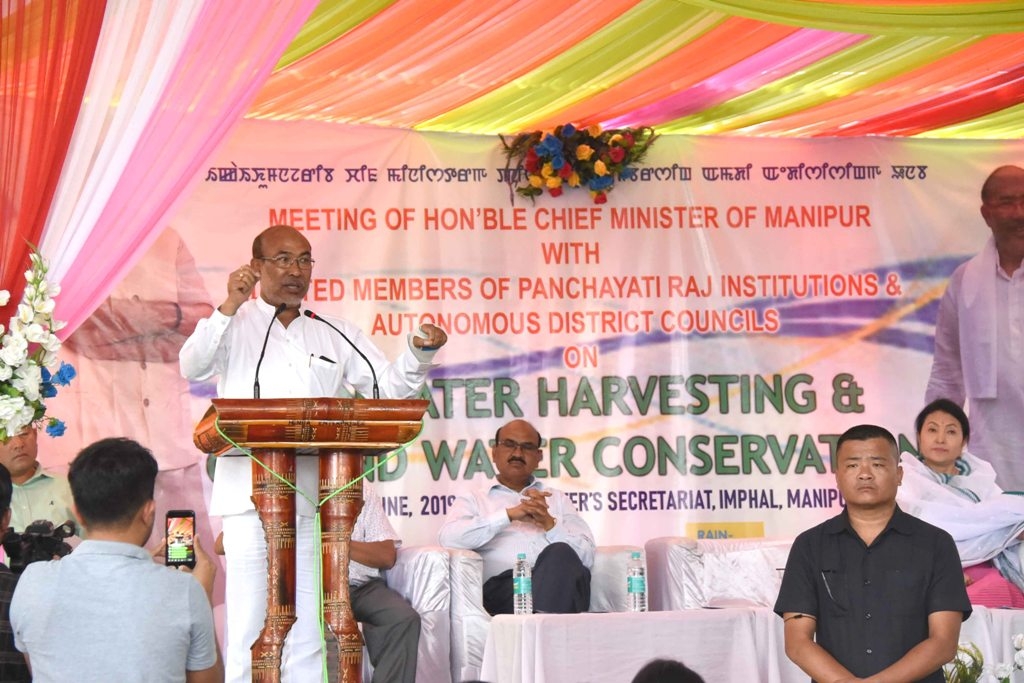 DIPR
Imphal, June 27,
Chief Minister N. Biren Singh said that we all should work collectively at grassroots to conserve and preserve rain water and ground water in the State. This was stated by him at the meeting with the elected members of the Panchayati Raj Institutions held at Chief Minister's Secretariat today.
Speaking at the function, Chief Minister announced that the top performing Panchayat on the harvesting of rain water would be rewarded a cash prize of Rs. 5 lakhs. The concerned officials, Pradhans and Zilla Parishad members will be honoured in a State level function, he added.
Mentioning that Rain water harvesting mission is the brainchild of the Prime Minister Narendra Modi, Chief Minister said that we must find ways to harvest the rain water for farming purposes during lean season. He stated that the present government has initiated rain water harvesting schemes in hill areas such as Tamei, Chandel, Senapati, Ukhrul, Churachandpur etc. Such schemes have been constructed with an approximate cost of Rs. 2 crores each by Minor Irrigation Department.
Chief Minister mentioned that the Building By-Laws has been amended so that the newly constructed buildings should install a rain water harvesting system. He appealed the elected representatives of the Panchayati Raj Institutions to keep an eye on the illegal sale and purchase of land property in their respective areas. He stated that a State Level Committee would be formed to check the illegal sale and purchase of land in the State. He also urged the elected leaders to restrict the construction of buildings on the paddy lands in the State.
Chief Secretary Dr. J. Suresh Babu, Addl. Chief Secretary Shri Letkhogin Haokip, Adhyaksha of Bishnupur Zilla Parishad Dr Romabai Leirenjam, Deputy Commissioners of Valley districts, Adhyakshas and Zilla Parishad Members of various Panchayats attended the function.