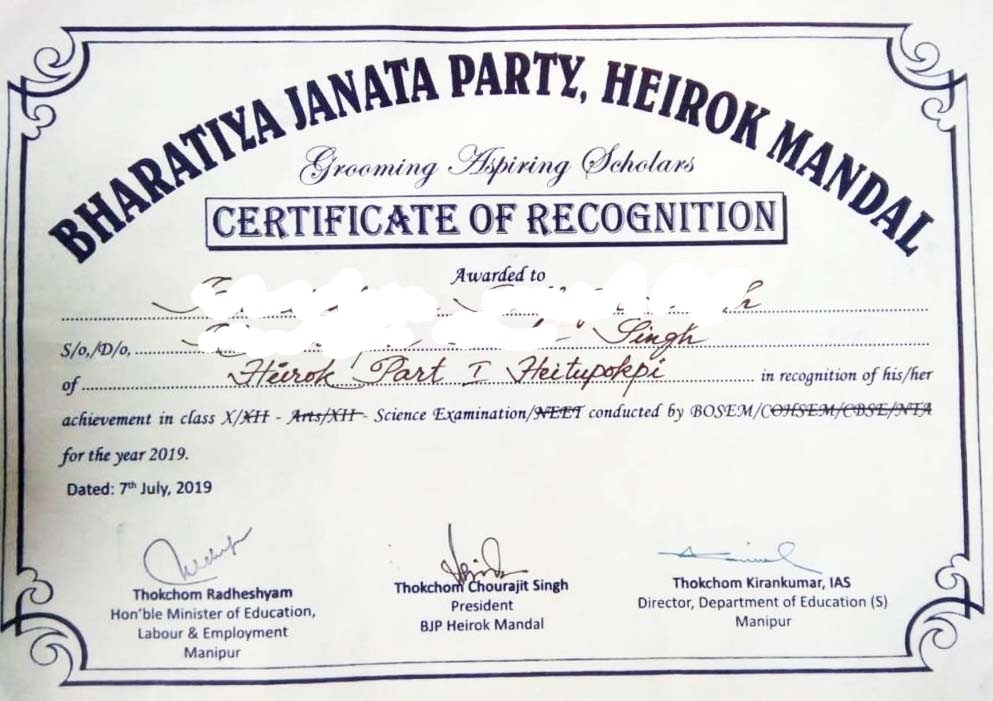 IT News
Imphal, July 9,
Nothing seems to be going well in the governance of the state as not only the law makers but also the bureaucrats who were supposed to exercise their power judiciously started politicizing their status in the State Government.
In the certificates awarded by Bharatiya Janata Party (BJP) Heirok Mandal to meritorious students of class X and XII examination conducted by the BOSEM and COHSEM, distributed on July 7 at a function organised by the Mandal at Nongpok Lourembam Umang Laikol, Director of Education (s), Government of Manipur, Thokchom Kirankumar signed the certificate of recognition along with Education Minister Th. Radheshyam and President of the BJP Heirok Mandal, Thokchom Chourajit Singh.
Questions arises from various sections of the society is that How could the Director of the Education (S) give recognition from his own capacity as the Director, signed in a certificate issued by a political party? Not only that the Education Director signed in the 'recognition certificate' issued by the political party but also attended the function organised as dignitaries on the dais. Even Education Minister Th. Radheshyam also signed the certificate of recognition at the capacity of the Minister.
Interestingly another government employee attended as dais member was Arambam Anilkumar, ZEO Zone –III, Thoubal.