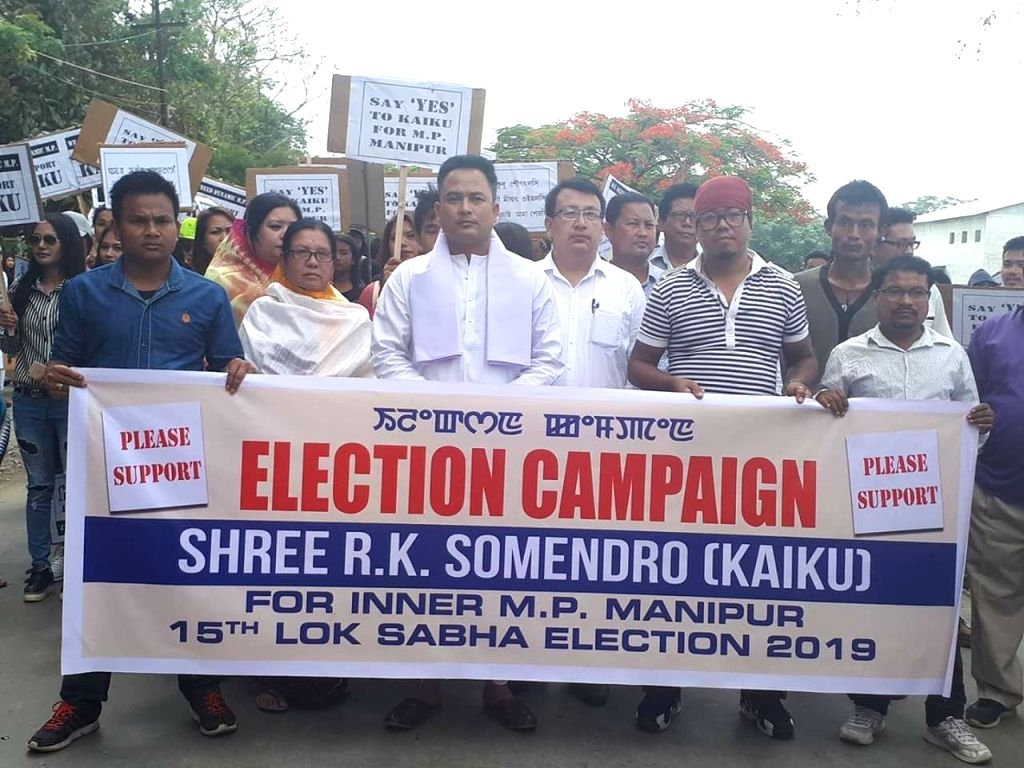 IT News
Imphal, May 18,
Popularly known in Manipuri film industry as Kaiku, R.K Somendro, one of the favourite film actor of Manipuri Film world and fans of thousands youngster, is all set to contest the upcoming Parliamentary election in the Inner Manipur Parliamentary constituency.
The 41 years old film star turns politician today launched his election campaign by taking blessing from local deity "Ima Khunthokhanbi" at Thangmeiband and staged a road show in all area of Thangmeiband Assembly Constituency along with his supporter. Earlier Kaiku was an important state member of the LJP but after quitting the party he is contesting as an Independent candidate.  
He is the son of RK Modhusana and RK reba Devi of Thangmeiband Meisnam leikai , Imphal West.
On a question on why he wanted to contest election – the simple answer he gave was , " I want to serve the people of Manipur".
R.K Somendro@ Kaiku is the Second Film star who joined politics and campaign to contest election after (Late) Wangkhem Basantakumar in Manipur.
But in Tamil Nadu, Maharastra, Bihar, Rajasthan and even at Delhi many film star had contested and even become the Chief Minister.
Popularly known as 'Ama' to all Tamilians of Tamil Nadu was a superstar in South India. She was one of the best Chief Minister of thr country.
The present Union Minister in the Prime Minister Modi led government Smriti Irani is also an actor turn politician. Bollywood star Shatrugahan Sinha was elected as the MP from Bihar.
Bollywood actor Hema Malini, who is still remember for her humorous dialogue – Chal Dhanno … aaj teri Basanti ki izzat ka sawaal hai (Go Dhanno … today is the question of Basanti's honor in the all time super hit movie Shollay also joined politics and become MP from Mathura in 2014.
Superstar Amitab Bachan, his wife Jaya Bachan , Raj Babar etc. all joined politics and become MPs.
Film star joining politics and become successful is not new in India.
Former President of the United States of America Ronald Reagan was also a onetime famous Hollywood star.