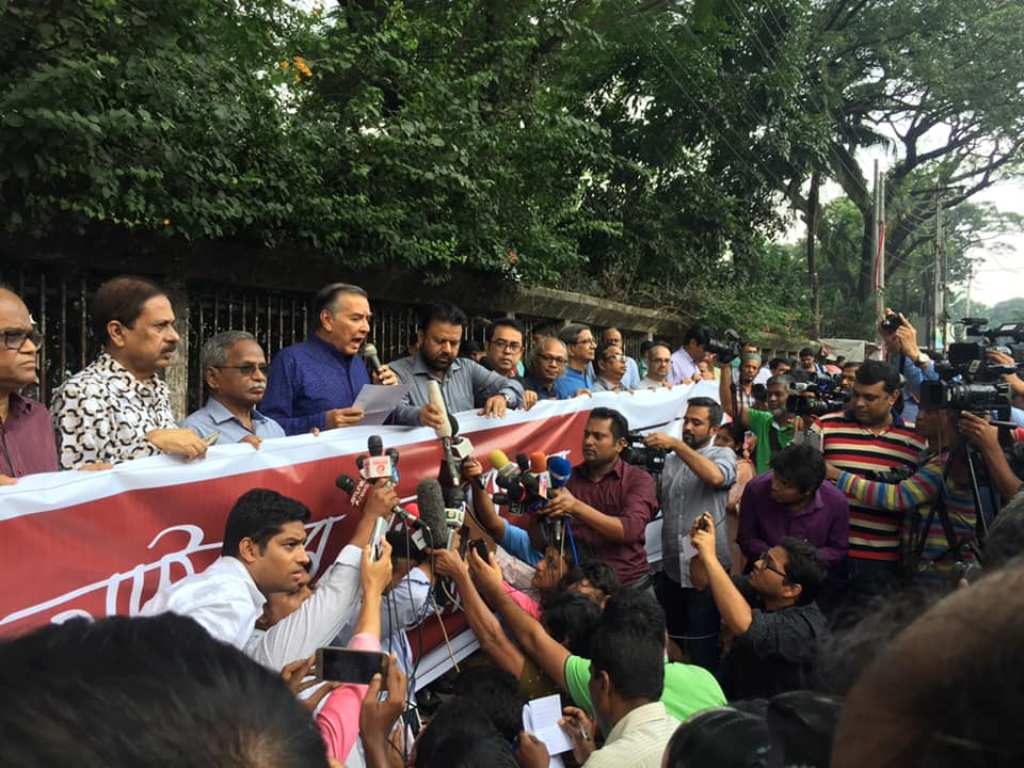 Siam Sarower Jamil,
IT Correspondent
Dhaka, Oct 15
The Editors' Council on Monday demanded amendment to nine sections of the newly enacted Digital Security Act, 2018 which was widely feared to be misused to gag the media.
Editors' Council, an association of Bangladeshi newspaper editors, made the demand at a human chain in front of the National Press Club in the capital.
The council at the human chain demanded that the nine sections of the act must be amended in the last session of the present parliament to safeguard freedom of the media and freedom of expression.
Prothom Alo editor Matiur Rahman, New Age editor Nurul Kabir, The Daily Star editor Mahfuz Anam, Bhorer Kagoj editor Shyamal Dutta, Kaler Kantho editor Imdadul Haq Milan, Bangladesh Pratidin editor Naem Nizam, Naya Diganta editor Alamgir Mohiuddin, The Independent editor M Shamsur Rahman, Manabzamin editor Matiur Rahman Chowdhury, Daily Inqilab editor AMM Bahauddin, Dainik Azadi editor M A Malek, Karatoa editor Md Mozammel Haque, Sangbad acting editor Khandaker Muniruzzaman, Jugantor acting editor Saiful Alam, Bonik Barta editor Dewan Hanif Mahmud, Dhaka Tribune editor Zafar Sobhan, Samakal acting editor Mustafiz Shafi and Financial Express acting editor Shahiduzzaman Khan gathered in front of the press club around 11:15am and formed the human chain.
Editors' Council general secretary Mahfuz Anam, also the Daily Star editor and publisher,  Mahfuz Anam read a written speech with their demands.
Earlier on Saturday, the council announced the human chain programme at a press conference at the press club demanding amendment to Sections 8, 21, 25, 28, 29, 31, 32, 43 and 53 of the act.
The council had called the human chain for September 29 but postponed it at the request of information minister Hasanul Haq Inu.
President Abdul Hamid on October 8 assented to Digital Security Bill transforming it into an act, ignoring calls from national and international journalists, freethinkers and rights groups for returning it to the parliament for a revision.
Jatiya Sangsad on September 19 passed Digital Security Bill, ignoring the concerns expressed by different national and international quarters including Editors' Council as it posed threats to freedom of speech and the press.