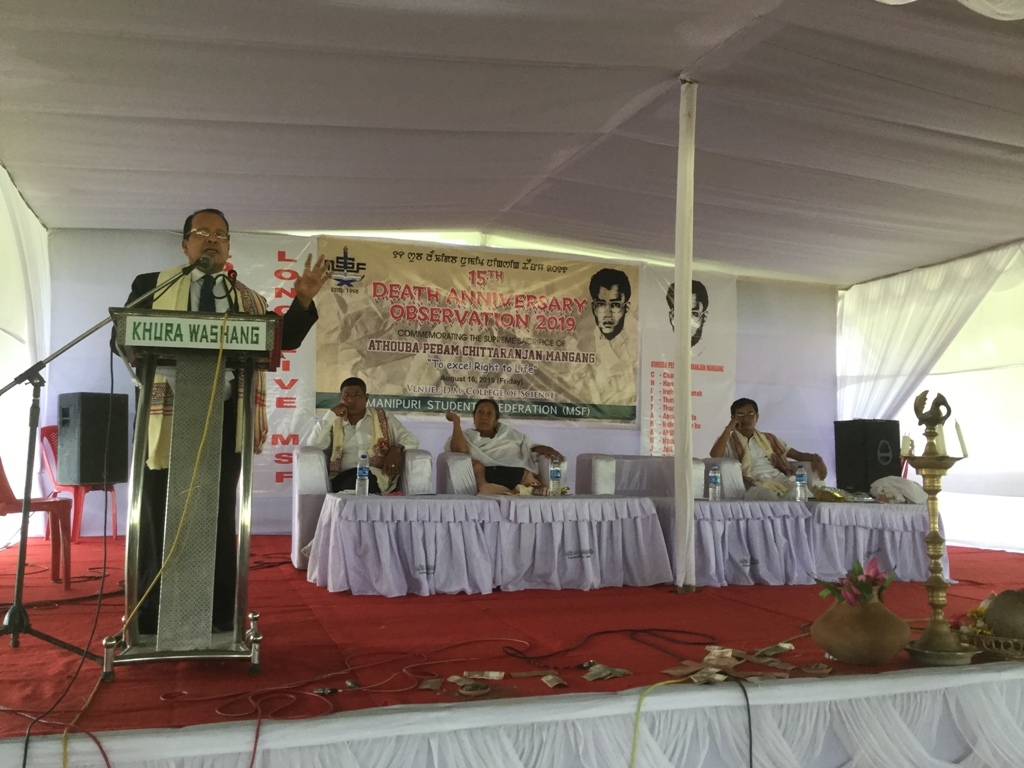 IT News
Imphal Aug16,
Commemorating the courage and sacrifice of Pebam Chittaranjan, the Manipur Students' Federation (MSF) today paid fitting tribute to Athouba Pebam Chittarajan on his 15th death anniversary held at DM college Science ground.
Athouba Pebam Chittaranjan self immolated on Aug 15, 2004 protesting against the draconian act AFSPA at Bishnupur, when the country was celebrating Indendence Day. He succumbed to injury the following day after 80 percent of his body was burnt.
Speaking at the observance, President of Manipur Students Federation Ngariyanbam Milan questioned how the students can study when their basic human rights which is right to life is   violated.
He said that all black laws should be repealed and added that there should be no oppression of any forms and that the imperialism should be stopped.
Milan stressed that the sacrifice of Pebam Chittaranjan where he self immolated himself for the people of the land carrying the message that it is better to die than to live like a lifeless soul.
He further urged the government to first give the basic human rights which is right to life and can fulfilled the rights to education afterwards.
Addressing on the function Acting Chairperson of Manipur State Human Rights Commission Khaidem Mani stressed that the sacrifice Chittaranjan had made was to excel the right to life and to live with dignity.
Highlighting to use the Human Rights Commission he said that the students should not simply initiate movement regarding their grievances but to make complain to HRC and all due process will be done by them.
Mani further appealed the students to progress on the right side and added that if they can't know what is right and wrong, they should asked to a more knowledgeable person.
While doing and initiating any movement the students should first clearly know what they should do and what are they fighting for, he added.
Mani also asked the students who are in student organization to be the guide of the common students.
He further said that we should have a clear idea to initiate before any movements.
The public meeting was attended by President of Poirei Leimarol Meira Paibi Apunba lup Longjam Memchoubi, President of AMUCO Ph. Deban and President of MSF Ng. Milan as the presidium members.
Earlier floral tributes were paid to the statue of Pebam Chittaranjan situated at Athouba Pebam Chittaranjan Mangang Memorial Complex, Bishnupur.
A silent mass rally was also staged starting from Takhellambam Leikai and marching to DM College Science Ground.
Also a free health medical camp and a blood donation camp were also organized by MSF in relation with the 15th Death Anniversary observation of Athouba Pebam Chittaranjan.