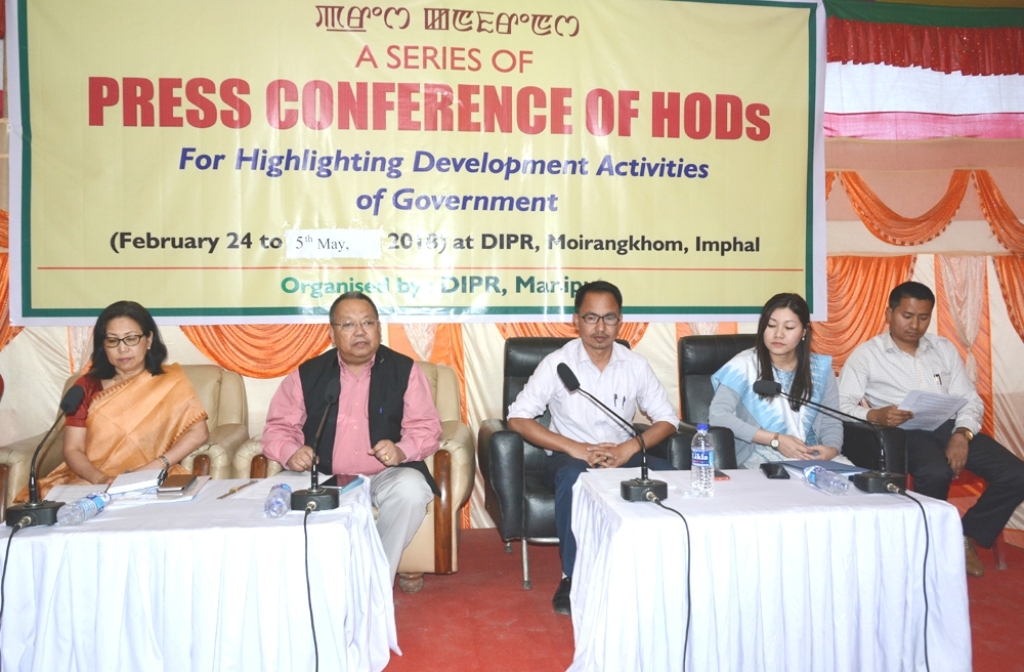 IT News
Imphal, May 4,
Director, MAHUD & Chief Town Planner, TPD, N. Gitkumar Singh said that it is a top priority to provide 24×7 pre-paid drinking water to households in the Imphal Municipal areas under the Atal Mission for Rejuvenation & Urban Transformation (AMRUT). This was stated at the ongoing series of press conference organised by Directorate of Information & Public Relations held at DIPR Complex, Moirangkhom on Thursday.
He said that the main objective of introduction of pre-paid water metres is to check the water theft, leakage and control water wastage. For the project, the Centre has allocated Rs. 180.32 crore out of which Rs. 175.81 crore is for water supply and Rs 4.41 crore for development of parks and green spaces with children/elderly citizen friendly facilities. The funding pattern will be in the ratio of 90:10, he added.
Stating that AMRUT will be implemented in 3 (three) phases which has been approved by the Centre, he informed that all the installments has been released. PHED has already started the process of laying water pipes and supervision will be done by the Urban Local Bodies.
Highlighting the major initiatives taken up by the Department to facilitate State Government's Programme 'Khungang Chatse – Go To Village' mission, he said 146 public toilets in the 27 towns of Manipur has been mapped under Google Toilet Locater. One can locate the nearest public toilet by typing Swachh Toilet Manipur. With the help of the 27 Urban local Bodies to keep the toilet neat and clean, feedback devices in the 146 public toilets will be installed to know the condition of the public toilets and the feedback will directly come to the command centre.
He said IIT, Kharagpur, will be engaged for the preparation of GIS-base Master Plan for Imphal City to choke out plans for proper maintenance of the towns such as to sort out the traffic congestions. The expenditure will be borne by Central Government with a grant of 75 lakhs and the remaining 15 lakhs will be borne by State Government. He said that a comprehensive survey of the Urban Street Vendors of Imphal will be conducted in association with Economics Department, Manipur University. The Department is also finding out the Urban Homeless in the 27 Municipal towns of Manipur in collaboration with Anthropology Department, Manipur University.    
He said the Ministry of DoNER has approved the proposal for management of Municipal Solid Waste for 7 (Seven) towns namely Andro, Sikhong, Sekmai, Heirok, Wangjing Lamding, Thoubal and Lilong (Thoubal) for a total cost of Rs 13.52 crore. He said that a major objective of the MAHUD Department is to dispose the waste causing pollution, scientifically, without affecting the environment. Treatment of waste materials has been taken up successfully for the Imphal town at Lamdeng Solid Waste Plant.
Stating that Imphal was ranked 10th among the 13 cities which got selected in the 23 Fast Track Cities competition under Smart City Mission (SCM), Project management consultant (PMC) for implementation of Smart City Projects will be selected under Smart City Limited (ISCL), incorporated in the year 2016. To ease traffic congestion at the Imphal area, parking lot will be constructed at the basement of the 3 Ima Keithels along with foot overbridge and also to find out alternative routes.
Citizen Facilitation Centre, a one stop centre, will be open under Smart City Limited for easy procurement of Death Certificate, registration of vehicles, getting license etc., for those living in far flung areas. For setting up the Centre e-tender has been open at all India level.  
Under Swachh Bharat Mission (Urban), 27 towns of Manipur have been declared as Open Defecation Free (ODF). It may be mentioned that Government of India has declared 21 towns including Imphal as ODF. The State is planning to become ODF in all the Urbans by 2018, he added.
Ng. Uttam Singh, Joint Director, MAHUD, said that Imphal Evenings will feature additional programme in Collaboration with Manipur Mountaineering & Trekking Association and Art & Cultural Department with inclusion of adventure sports and cultural items for entertainment.
Y. Narmada Devi, Associate Town Planner, TPD; L. Jayarani, District Co-ordinator, MAHUD and Ch. Ningtamba Meitei, Asst. Director, MAHUD also attended the Press Interaction which was moderated by T. Sangeeta, Asst. Publicity Officer, Information & Public Relations.