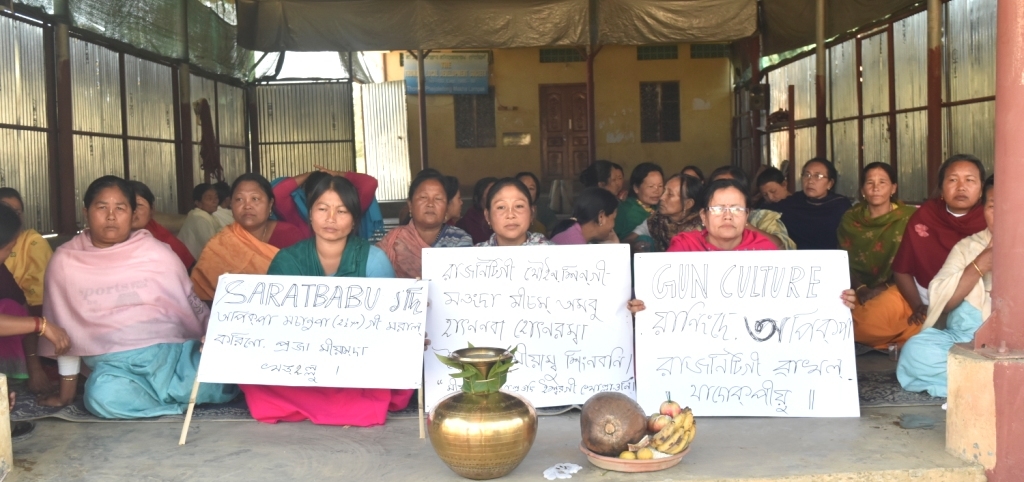 A 2 and half years old minor boy sustains serious bullet injury at his back when unknown miscreants fired several round of gunshot while sleeping upon his father at Pheija Leiton Makha of Thongju Part 2 in Imphal west at around 20 minutes after midnight today. Report said the miscreants fired around 5/6 rounds of gunshots from a window towards the bed at which the minor boy was sleeping along with his father Chirom Sharat Meitei. The minor boy identified as Chirom Lanchenba Meitei sustain serious bullet injury at the left side of his back and is undergoing treatment at Shija Hospital and Research Centre Langol. The bullet missed his father but hit at his son sleeping upon him.
Identities of the miscreants who attack them could not be established at the moment but, Sharat expressed suspicious about the attack to be an election related one as he is now a hard core worker of BJP candidates.
Speaking to a group of media, Sharat said that their family returned back to their home on November 18, after staying 5 months at his wife's maternal house located at Haoreibi Mayai Leikai. He said that a bullet hit at the coat right ahead of his head during the attack. He said he had no enmity with any of the individuals and wonder on why some persons could have attack him using gun in such a way.
Singjamei police has registered a case in the connection.
Protest staged denouncing the attack
Denouncing the life attempt to Chirom Sharat Meitei which injures his 2 and ½ years old son, large number of people today staged a sit-in-protest at the community Hall of Pheija Leiton Makha, Thongju Part-2 in Imphal West. Security was beefed up as the code of conduct is presently ensuing for the upcoming by-election scheduled on November 21. Report reaching here said that election observers of the by-election had taken stock of the situation.
Placards denouncing the life attempt to Ch. Sharat and his minor son were placed at the site of the sit-in-protest. The protestor earlier planned a public meeting but as code – of Conduct is being enforced in the area they were barred. On the other hand, speaking to reporters the protestors demanded immediate clarification on the reason of firing. they said intense form of agitation might be launched if the culprits involved are not arrested by concern authority.