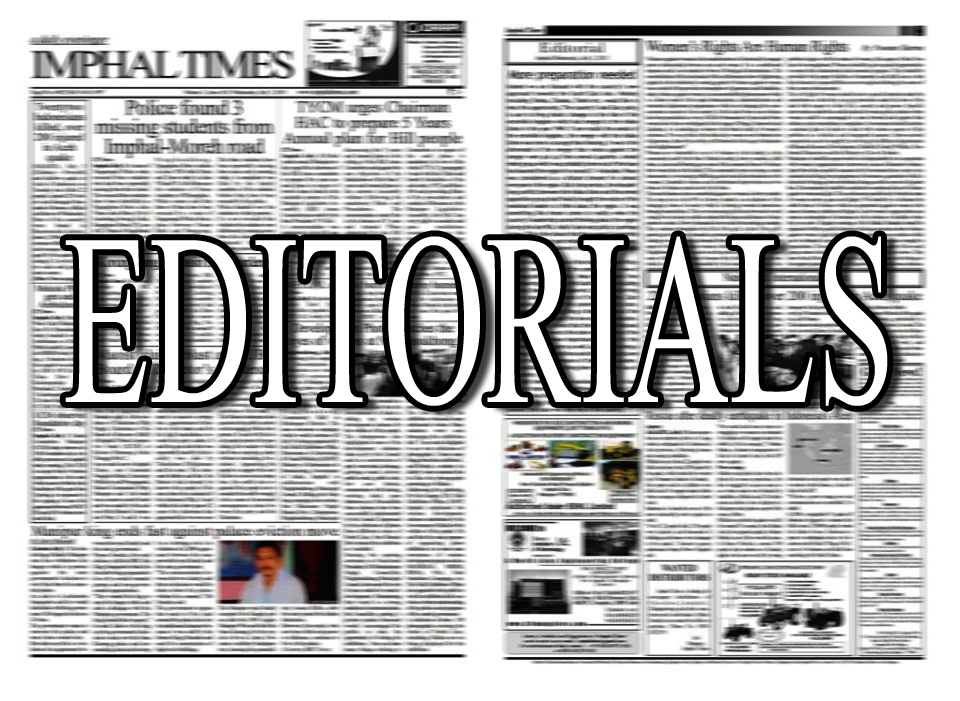 Times keep on marching and the society transforms with the changing of time. There is no way that human society rolls back; it is a natural phenomenon that the society marches. However, the fate of a society depends on the wisdom of the leaders of that society.
The state cabinet decisions to review the surrenderee rehabilitation scheme is timely and perhaps the need of the hour. But it is unfortunate that the state continue to believe in the tools that have not proved feed to tackle the situation even after 17 or more years.
For years Manipur has been reeling under insurgency problems. The story of the rise of insurgence in the state during late 1970s and early 1980s is much needed chapter that every ruling government in the state needs to revisit. And then it is also worth remembering the momentum of the insurgence during early 90s and the various efforts of the respective government both at center and the state in the late 1990s in their effort to resolve the crisis.  
Well there are no differences among any members of the society including those ruling the state when the impact of insurgency is discussed. Insurgence problem is always a throne on the way towards development and it is a much that this throne is plucked out for a better future.
Much had been tried by respective governments. The granting of amnesty to the rebel leaders during the mid 1970s by the then government is perhaps one excellent work taken up to contain the movement.
Then the change of policy during the early 80s was noticed with the introduction of Armed Forces Special Powers Act, 1958, as an instrument to fight the movement had made the problem of the state landed into catastrophe. Since the time that the controversial act has been used in the state the momentum of the movement too raised.
It was perhaps one good move of the then Central government when it signed cease fire agreement with a rebel group of the region (NSCN-IM) in late 90s. Those years witnessed serious concern of the movement and the state witnessed many package and policy being taken up to contain the movement. Among the few policies – Surenderee Rehabilitation schemes and Suspension of Operation with various outfits are worth mentioning.
The rehabilitation schemes and the SoO are mere tools to contain the movement and it is agreed by even the government that until a proper dialogue is held with the rebel groups there is no way that the problem is solved.
These arguments stands true as it is a fact that even after around 17 years, after the Surenderee Rehabilitation Schemes and the SoO was introduced, the state still fails to find any absolute solution.
It is now perfect time that both the government of India and the State government now think of another way to resolve the crisis by introducing a new strategy other than the SoO or the Surenderee policy.
Lets' make a better Manipur.