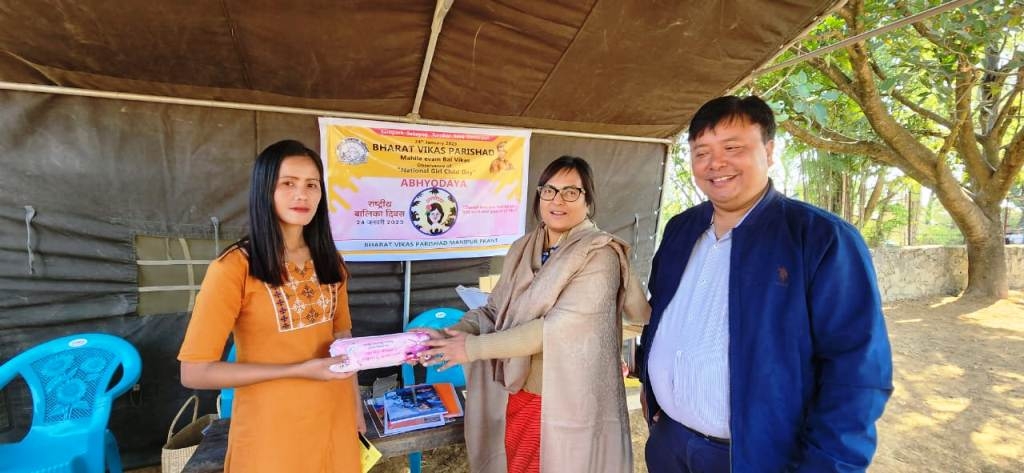 IT News
Imphal, Jan 24:
Bharat Vikas Parishad (BVP), Manipur Prant celebrated 'National Girl Child Day' – 'ABHYODAYA' today at the Seloi Hindi High School (Bal Vidya Mandir), a school adopted by Gadadhar Abhyudaya Prakalpa – Ramakrishna Mission, Imphal at Upper Charhajare, Kangpokpi district.
Joybi Heikrujam, National Project Member, Mahila Bal Vikas of BVP said that National Girl Child Day is celebrated on 24 January every year in India to spread awareness about the rights of girls and to highlight the inequalities that they face in their lives and to promote the importance of their education, health, and nutrition.
Nongthombam Muhindro Singh, Regional Secretary (Sampark), BVP said that National Girl Child Day is observed this year on the theme "Digital Generation, Our Generation, Our Time is Now – Our Rights, Our Future'. He further said that the objective behind celebrating National Girl Child Day is to provide support and opportunities to the girls of India.
An anaemia screening camp was also conducted as part of the programme in which about 147 children including housewives were screened for Hemoglobin. Sanitary pads, stationary items and health supplements were distributed to participating children, adolescent girls and lactating mothers.
Swami Devadeveshananda of Ramakrishna Mission, Manipur and Khageshar Sharma, founder of the school had also joined the programme.