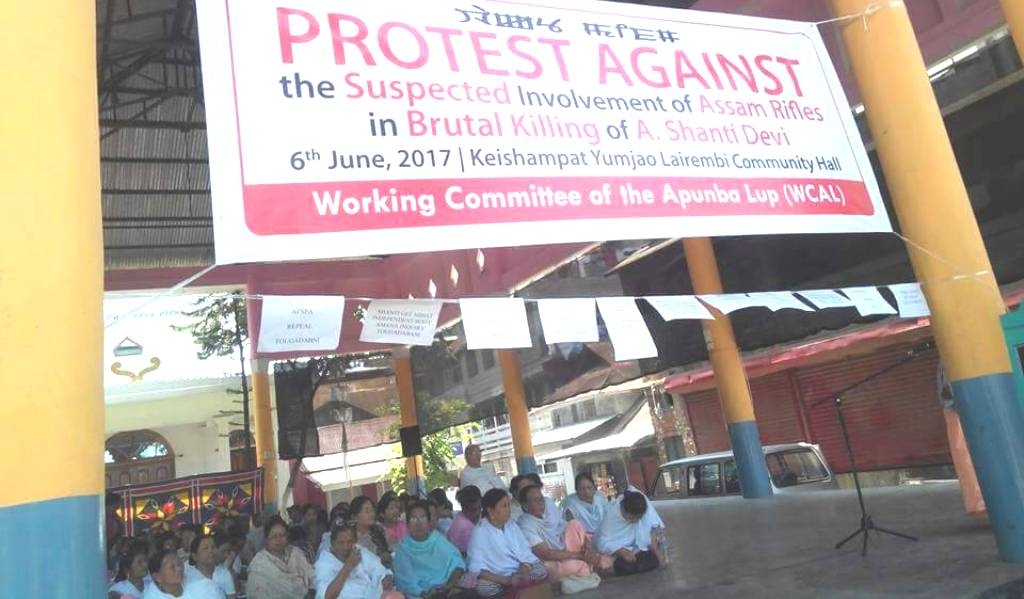 Imphal, June 6: Working Committee on Apunba Lup (WCAL), a conglomerate of Human Rights and Civil Society organizations based in Manipur has demanded judicial inquiry to investigate the killing of Arambam Shanti Devi at Moreh market on May 22 evening.
According to report Arambam Shanti Devi, a labourer working at Indo Myanmar Border was mercilessly murdered by two mask men who came in a motor bike by pumping half a dozens of bullets to her body. Her son, an auto driver picked up his mother and took her to Moreh Hospital but she succumbed to her injuries.
Large number of members of Apunba Lup today stage protest and proceed towards Chief Minister Bungalow to submit memorandum demanding justice for the decease lady today afternoon. The protestors were however, stopped by a large number of Police at Keishampat. After a brief confrontation, the police team allow few of the representatives of Apunba Lup for submitting memorandum to the Chief Minister.
The memorandum demands institution of a special Commission of Judicial Inquiry, comprising Legal Luminaries, Forensic Expert, etc. to investigate the Killing of A. Shanti Devi and immediate prosecution of all those involved in the crime. It also demands security forces to stop any form of engagement of surrenderees, SoO/ Peace talk groups in their duties and urged to institute a High Power Committee to strictly monitor the surrenderees, SoO or Peace talk cadres in their movement and activities.
In view of the excess committed by the security forces, the Apunba Lup also demanded immediate repeal of draconian act – The Armed Forces Special Powers Act, 1958.
In the memorandum submitted today the Apunba Lup warns serious agitations if the government fails to comply with the charter of demand mentioned in the memorandum.
Apunba Lup also expressed strong suspicion on the involvement of certain protected individuals by Assam Rifles. In the memorandum it is stated that the killing took place in close proximity to the Assam Rifles camp and besides, an AR vehicle (Gypsy) was seen parked at a very short distance from the spot of the killing. They question on why the AR personnel collected empty cartridges lying at the spot where the killing took place when the police are yet to arrive at the crime scene.
Further, the Apunba Lup also questioned on why 2 suspects arrested on the intervening night of 23 and 24 May along with a small unregistered pistols were intervene by the Commanding Officer of 11 Assam Rifles. As per information with the Apunba Lup it is stated that the 11 AR CO strongly resisted any proceeding for further investigation to the two suspects arrested by the the police.