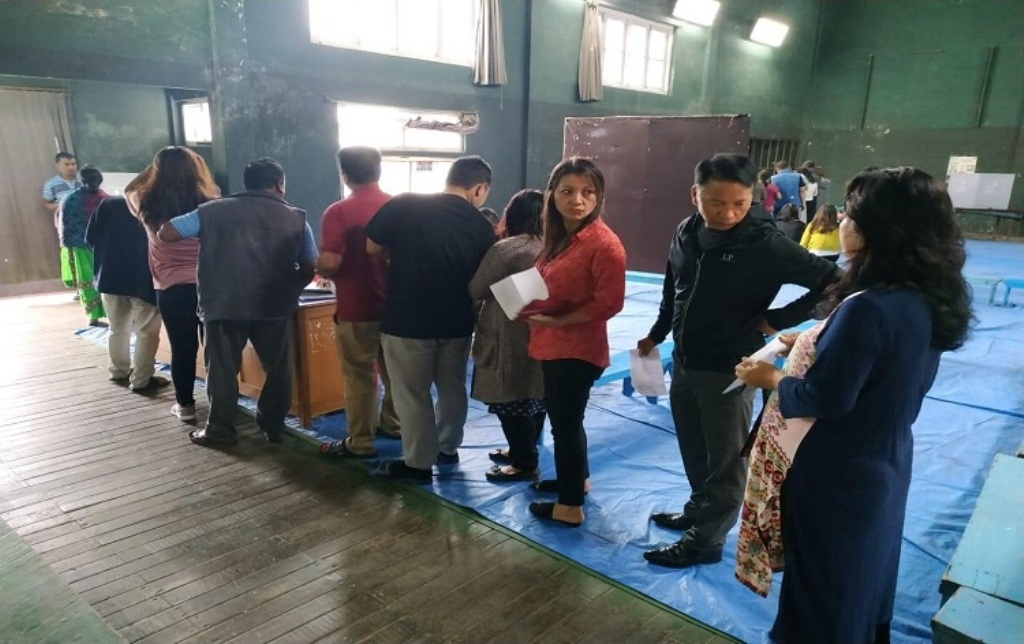 IT News,
Imphal, April 11,
Voters turn out rate is high in outer Manipur Assembly constituency with the figure reaching 68.16% at 3 pm. Voting in the outer Manipur PC started at 7 am and will be concluded at 4 pm. Except for some few reports of unwanted incidents, the polling is reported to be peaceful. Minor incidents like malfunction of EVM were reported at many polling stations.
To ensure smooth polling, tight security arrangement are being made in and around all polling stations. Indo-Myanmar border along the Manipur sector has been sealed to check infiltration of anti-social elements across the border. 
Apart from 10 companies of state armed police, 90 companies of Central paramilitary forces have been deployed across the parliamentary constituency for smooth conduct of the polling. 
The voting took place at 1562 polling station in 28 Assembly constituencies. Of these, 227 have been categorised as critical, 171 as vulnerable while there would be 32 model polling stations and 198 polling stations which would be exclusively manned by women personnel.
Of the 28 assembly constituencies, voters turn out rate cross over 50% at 3 pm at the 7 Assembly constituencies of Thoubal and Kakching district, where they have no right to contest the election. This is unexpectedly high as people of the 7 assembly constituencies of both Thoubal and Kakching districts have been demanding right to contest election. The assembly constituencies are Heirok, Wangjing Tentha, Khangabok, Hiyanglam, Kakching, Wabagai and Sugnu. Total electors in the seven assembly segment is 2,107,48.
Total voters in the outer constituency is 10,10,618 and the voters of the seven constituencies played major role in this election.
Altogether eight candidates are in the fray. They are NCP's Angam Karung Kom, INC's K James, NPP's Thangminlien Kipgen, NPF's Lorho S Pfoze, BJP's Houlim Shokhopao Mate alias Benjamin, NEIDP's Ashang Kasar, JD-U's Hangkhanpau Taithul and independent candidate Leikhan Kaipu.
In Thoubal district, Tension erupted at 35/15 Polling station in Khangabok AC after BJP workers allegedly snatch paper of the Congress agent and drive out from the polling booth. Congress supporters also alleged that they were not allowed to cast their vote by the BJP goons at the polling station.
Congress leader of Khangabok AC MLA Surjakumar Okram and BJP leader Thokchom Jadumani rushed to the spot. The scene nearly turns ugly but timely intervention of the SDO prevented from happening any untoward incident.
More security forces were reinforced and the SDO himself stayed at the polling station and resumed voting at 2.30 pm.
Except 35/15 polling station of Khangabok Polling Station voting at other polling stations of Thoubal district was reported peaceful.
Voting at the polling stations of Heirok and Wangjing Tentha was also reported peaceful. However, there were report of EVM machine failure at 32/29 Heirok Khunku Polling Station, 33/6 Shikhong and 33/2 Ningel polling stations in the district. Voting began a bit late but poll percentage this time is high in the district.
Voters turn out reaches over 35% at noon in Thoubal district and with more people coming out the voters turn out rate is expected to reach over 60 percent.
Voting was reported peaceful in Chandel district but at some polling station voters expressed angered after presiding officers told them to limit voting at 80 percent
The voters were told by Presiding officer to limit the polling percentage at 80% percent for Polling station at Japhou Bazar, Chandel.
Angered over such statement ex MLA of Chandel St. Victor Nunghlung said to media persons that it was very unfortunate for the people of Chandel district and added that there is a loss of 20 percent of voters where an election is won even by a single voter.
Speaking to media persons, Presiding officer of the Polling station 41/16, 41/17, 41/18, Chandel AC said that they have been contacted through phone call and instructed not to exceed the poll percentage from 80 %. If exceed than there will be re-poll, he said.
Another official said that they were instructed by sector magistrate.
The election was held peacefully in other various parts of the district.
Unconfirmed report said that armed militants had disrupted polling at Chakpikarong area. 
In Senapati district, 24 EVMs problem halt up polling in many polling stations in the District.
Unconfirmed report reaching here said that polling was halted for hours in various polling stations in many villages in Senapati District as EVMs were not working. However, sources said EVMs were replaced and repaired by technicians and polling resumed.
According to report from Herald Today in Karong A/C, 2 EVMs had malfunction at Maiba village, 1 at Thingba khullen,  1 EVM at Khabung, 1 EVM at Koide, 2 EVMs at Senapati, 1  EVMs at Lakhamai, 1 EVM at Makhreliu. At 49-Tadubi A/C 1 EVM fails at Makhan centre another each at Makhan khullen, Makhan khuman, Mao Marafii and Tadubi village. The Senapati based Newspaper also reported that 8 EVMs malfunction at Tunggam Khullen, Liyai, EVMs ,Chilao Liyai and Tungjoy of 48- Mao Assembly constituency.
There were however no report of any unwanted incidents during the election.