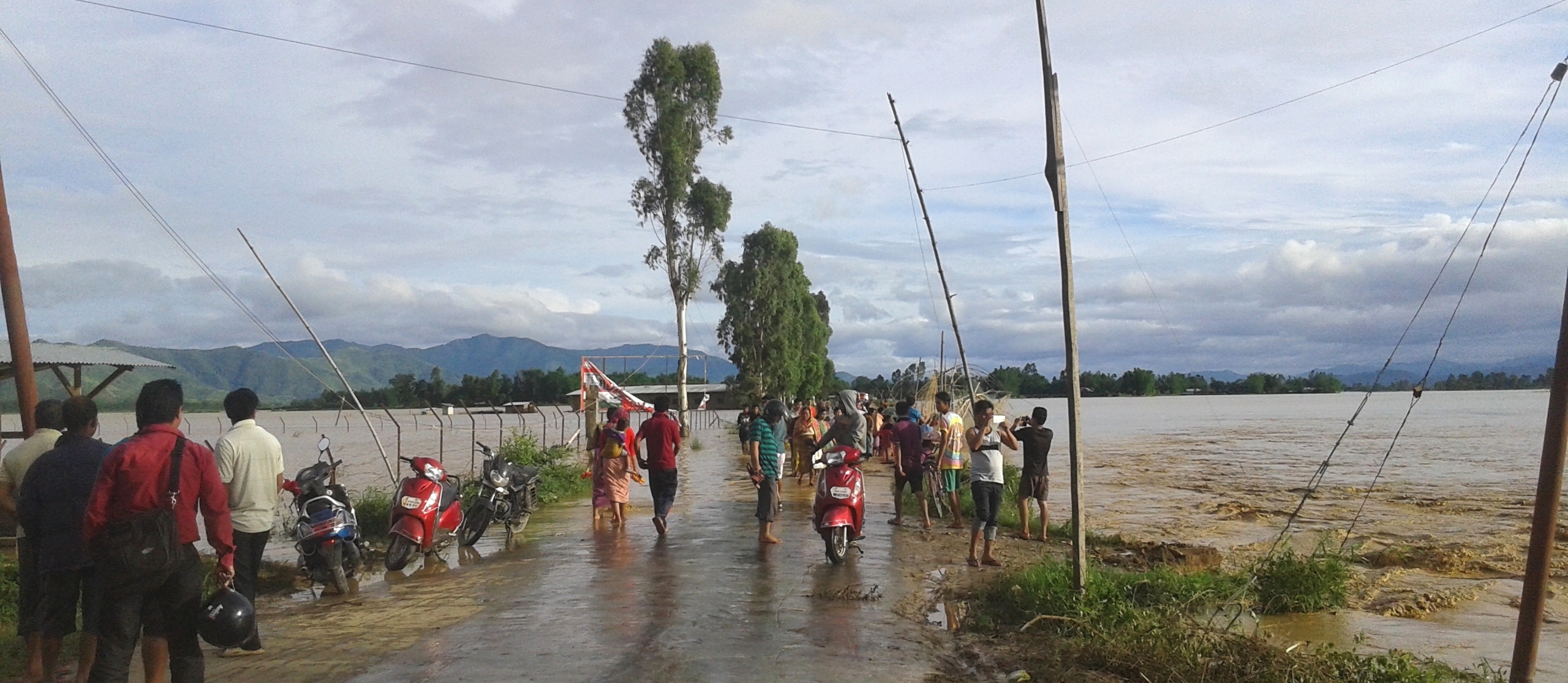 Even as the sky remain clear today, many villages in Thoubal and Bishnupur district continue to remain under water as the water level failed to recede. At Ukhrul and Chandel district, Manipur saw the worst situation with major landslide at many places at Ukhrul, Kasom Khullen, Tengnoupal, Hollenphai and at the interior part of Chandel district. At Least 19 people are reported killed in Joumol Village in Khengjoi block of Chandel district due to mudslide at around 9 am yesterday, but district administration could not sent rescue team as the road reaching the village has been block by landslide at various places in between Tengnoupal and Hollenphai. Report reaching here said that Assam Rifles troopers posted at Khengjoi range along the Indo-Myanmar border had mange to rescue 8 villagers of the area. They are presently taking refuge at Chahmol Assam Rifles camp at Sajik Tampak. Those killed in the mudslide has also been identified.
At around 10.30 pm yesterday evening a 21 member team of National Disaster Response Force (NDRF)  had landed at Tulihal Airport Imphal. At around 6.30 am today 11 members of the NDRF team were airlifted in a Helicopter at Joumol Village in Khengjoi block, Chandel district. Another team consisting of 10 members were also later airlifted to the site. According to report reaching here the NDRF team are engaging in search operation of the dead body. The team are also reportedly looking for other survivors at the area.
Meanhwile, SDO of Khengjoi Block Mary Memi has also rushed to to site but can't communicate with her at the moment.
At Wangjing and Thoubal area water level has been receded but the level is reported growing at Tentha and Tekcham. Almost all houses in the two villages have been submerged by the water. Many fish farms and paddy field have been devastated.
Interestingly, MLA P Brojen who had came along with relief materials for Tentha and Tekcham had to stop at Tentha market as there was a traffic jam at the area by people coming to buy fish. A Kg of fish was sold at Rs. 30 to Rs. 40 today, our reporter said.
At Wabagai, Lamjao, Elangkhangpokpi and Keirak area the water level recede, but the level grew at Wangoo area. The newly built police station at Wangoo has also been submerged under water at around noon today. Almost all the paddy fields and the fish farms at the area have been devastated.