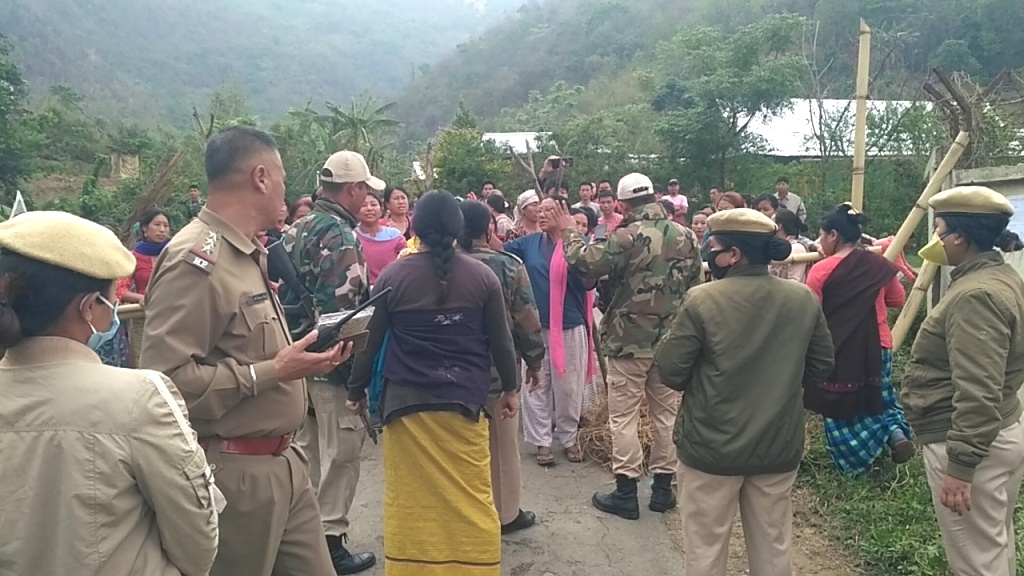 IT News
Imphal, April 24
Tension erupted at Macheng village in Mantripukhri area under Heingang Assembly Constituency of Imphal East district after large number of people protested eviction of 3 houses by Forest Department authority from Langol Reserved Forest area amidst lockdown in the fight against COVID-19 pandemic.
Police team who were assisting the Forest department authority in the eviction drive as per an order by the Imphal East district magistrate fired several round of tear gas shells to disperse the protestors. However, the scene turned ugly after the protestors strike back with sling shots and by pelting stone. A police personnel was reported injured after he was hit by a slingshot.
Report said that large number of people of the Macheng Village block road at Lamlongei Macheng area at Mantripukhri while a team led by RK Amarjit, DFO, Central Forest Division and Executive Magistrate of Imphal East along with a police team led by Additional SP of Imphal East went to evict the houses at around 8.30 am today. The government authority convinced the villagers however as they protested the eviction of the houses the Executive Magistrate order to disperse the protestors. Following the order the police fire several round of tear gas shells and Rubber bullet and disperse the protestors and evicted the encroachers.
The three houses constructed inside the Reserved Forest Area belong to one Khonthuingampou Panmei H/o Gaingamliu Malangmei. Two of the houses have been rented by him.
Talking to reporters, RK Amarjit, DFO, Central Forest Division said that a total of 1346 houses have been constructed inside the reserved Forest land and a case is pending with the court for eviction of the houses. Above this there is an office memorandum which stated that no new houses can be constructed inside the forest reserved land.