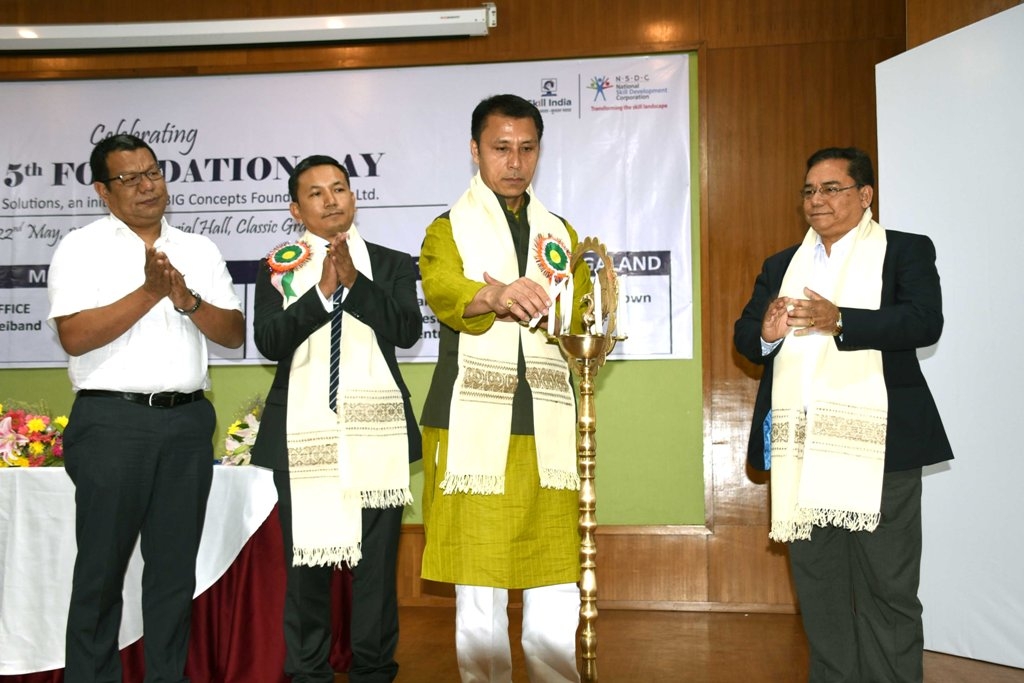 DIPR
Imphal, May 23,
Education, Labour & Employment Minister Thokchom Radheshyam said that skill development could solve the issues of unemployment faced by youths of the State. He stressed that the skill development programme should be focussed to contribute in the progression of society for a more meaningful life.
The Minister explained that the three key aspects to achieve success are – knowledge, skill and deeper understanding of the issues/subject. Market, he said, is all about demand and supply and one needs to keep in mind the relevance of the training being imparted. He further opined that there is a need to follow up or collect feedback from the pass out trainees and experienced service provider. He added that this will also help in finding a place for those trainees who are not able to perform well.
Th. Radheshyam was speaking as the Chief Guest at the 5th Foundation Day celebration of Jugeshwar Centre for Regional Excellence (JCRE) at the Imperial Hall, Classic Grande yesterday. He said that there is a need to encourage the local people and asserted that certain areas in local sector need to be identified to fulfil the expectations and concerns of the trainees. Uniqueness of the land in terms of culture and traditions need to be maintained to attract tourists. He called upon the people and experts to try out things with a different taste define by local flavour.
Manipur Society for Skill Development (MSSD) Mission Director, C Arthur Worchuiyo said that to harness the natural resources of the state skilled man power is the main factor. For introducing huge national as well as international venture, he added that the time is right to reorient the skilling mind set towards harnessing the locally available resources. He stressed that retaining the trained local people in the State is another important factor by finding out appropriate avenues and areas of skill development.
Chairman & MD Babina Healthcare & Hospitality Industries Pvt. Ltd. Dr. Th. Dhabali Singh stated that unemployment is the mother of all problems in the State. He stressed that skill development is a solution for providing self employment or employment but most importantly it can infuse entrepreneurial spirit in the hearts of the young mind in becoming job givers. He said to uproot the problems of unemployment there is a need to conduct an extensive skill training development. Highlighting the need of huge skilled persons in different fields of industrial establishment he said that once the people of the State get skilled and trained than coming of immigrant workers from outside the state will lessen naturally.
JCRE Skill Solutions is an initiative by Big Concepts Foundation Pvt. Ltd, a Skill Development Organization and a registered Vocational Training Provider (VTP), under the Ministry of Skill Development & Entrepreneurship (MSDE), Govt. of India. JCRE Skill Solutions is the first NSDC certified partner in Manipur and second in the entire North-East India.
It may be mentioned that the organisation has been providing power training in Distribution Lineman under Power Sector Skill Council (PSSC) in association with Manipur State Power Distribution Corporation Limited (MSPDCL) under Pradhan Mantri Kaushal Vikas Yojana (PMKVY); vocational training provider in high schools in Manipur under Rashtriya Madhyamik Siksha Abhijan(RMSA) and one of the empanelled board members of the Board of Studies(BOS) for vocational designing-framing curriculum of Education under Rashtriya Uchchatar Shiksha Abhiyan (RUSA) scheme in Manipur.
Director & CEO JCRE L. Niranjan Singh, staffs of JCRE and trainees attended the celebration.