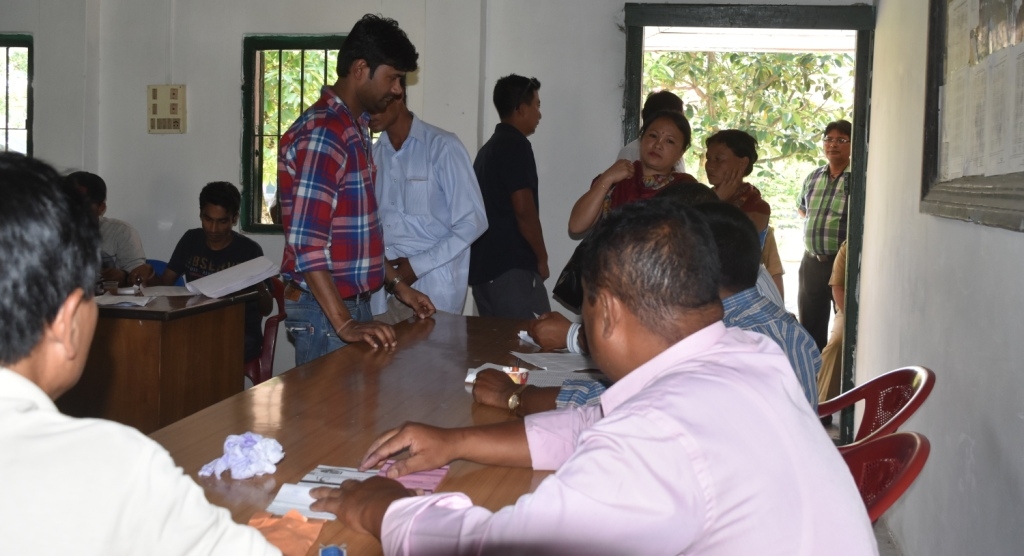 Imphal, June 2: Sitting MLA of Sagolband Assembly Constituency RK Imo today had a heated argument with former MLA Khwairakpam Loken Singh at TG Higher Secondary School over alleged proxy voting reported to have been taken place at polling booth 24/2. The incident happen at around 10.30 am.
Three candidates ( G Bino of INC, Mitchellu Gangmei of BJP and Independent candidate Kalamchonglu Gangmei)  are contesting in ward number 24 which comes under Sagolband Assembly constituency.
Video footage broadcasted in local TV show MLA RK Imo confronting former MLA Kh Loken with their escorts and workers supporting them side by side. Police which rushed to the spot faced hard time putting the situation under control. MLA RK Imo was heard shouting to former MLA Khwairakpam Loken about one of his worker pushing at him. Former MLA Loken too charged the MLA of being pushed by one of his workers. Report said that even escorts provided to both the politicians sided with their respective VIP.
Later, police drive them out of the campus and allowed only the voters inside the school campus.
Independent candidate Kalamchonglu Gangmei and BJP Candidate Mitchellu Gangmei while speaking to media alleged proxy voting by Congress candidate G. Bino.
Both the candidates urged authority to conduct re-poll in the polling station. However, voting continues without any interruption after the incident.
Voting for the Imphal Municipality Corporation election was concluded peacefully today amidst general strike called by a rebel group. The election was reported peaceful at all polling booths of the 27 wards except for some minor poll related incidents. Voting took place at 189 polling stations. A total of 86 candidates are in the fray for 27 councillor seats and 129 candidates are in the fray for 53 wards members.