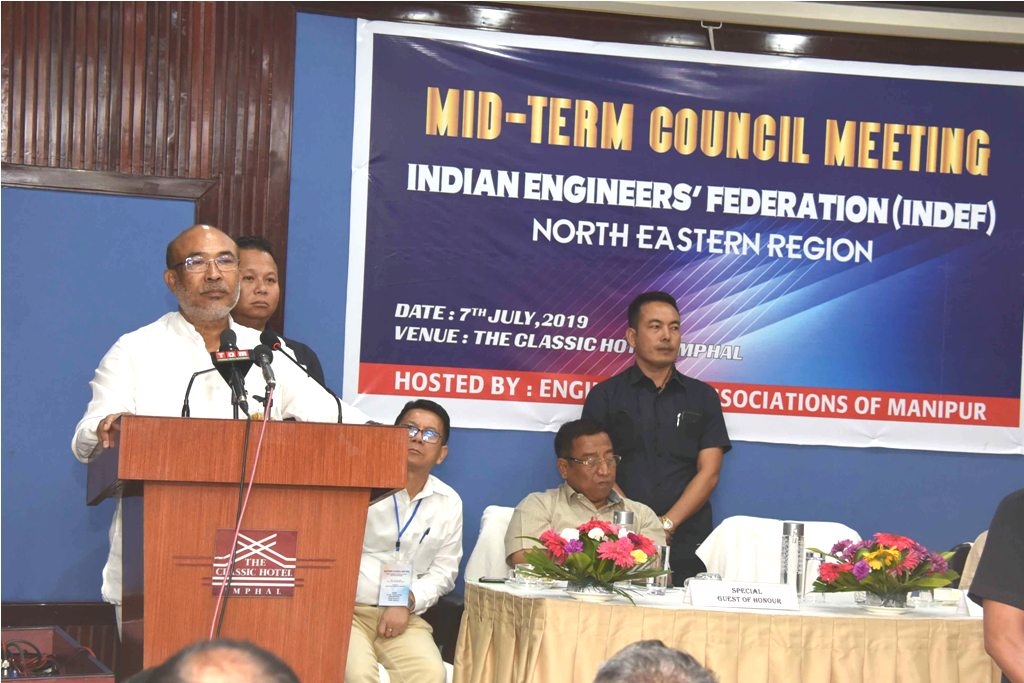 DIPR
Imphal, July 07,
Chief Minister N. Biren Singh said that progress of the State and its infrastructural development is dependent on the dedicated services of the Engineers while speaking at the Mid Term Council Meeting of the Indian Engineers' Federation (NorthEast Region) held at Hotel Classic, Imphal today.
The Chief Minister said that Engineers have a great role in our society. Engineers have the responsibility of ensuring proper planning and effective implementation of various developmental projects in the State, he added. He mentioned that fulfilling the commitments of all-round development is a collective effort and the contributions of the Engineers of the state will go a long way towards achieving the goal of Sabka Saath, Sabka Vikas, Sabka Vishwas.
Chief Minister informed that the government is planning to construct elevated highways and ring roads for better road connectivity in the State. In this regard, the government has submitted a proposal with an estimated cost of around Rs. 1000 crores, he added.
In order to streamline the Engineering Departments, he urged the Engineers fraternity to submit a proposal to maintain a proper transfer and postings policy of the Engineering Departments. He also mentioned that the government will discuss about the re-creation of the post of Secretary (Technical) soon. He maintained that Engineers should not work under the pressure of Politicians, Bureaucrats etc. and should hear their own conscience to execute good work.  
Chief Minister expressed that such meeting would help bring about better understanding and appreciation of the challenges and issues facing by the Engineering Community and suggestions on how best to address them will serve the purpose.
Forest and Environment Minister Th. Shyamkumar, Executive Council Members of Indian Engineers' Federation (North East Region), retired Chief Engineers and Engineers of various Engineering Departments attended the function. The meeting was organised by Engineering Association of Manipur.