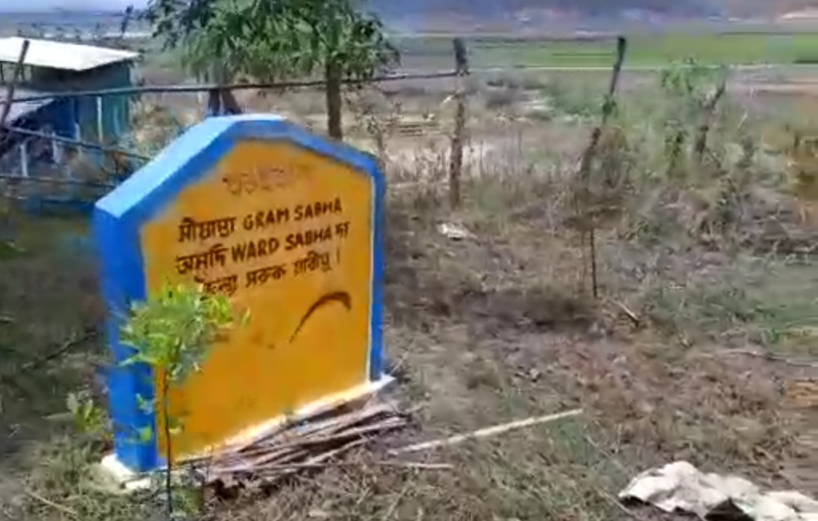 IT News
Imphal, April.29
Some people, reported to be in power, have cleared certain portion of Chingkheiching Reserved Forest at Tera Chingphei under Sawombung Range of Central Forest Division today in morning hours. It has been further reported that these are well to do individuals in power and they were using a tractor to gradually level the gentle hill slope of the hill side and plough the Reserved Forest land for vegetable farming. There is also a concrete structure for public display or signage which displays the record of a plantation work done in the year 2018 under MGNREGA through the Top Dusara Gram Panchayat.
According to a source from Forest Department, it has been reported that in the past, there had been an instance when some miscreants have tried to construct a road in this part of Chingkheiching Reserved Forest to carve out certain portion of the Reserved Forest land by attempting to divert the present road which delineates the Reserved Forest area and revenue land and altering the boundary of the Reserved Forest. However, with the timely intervention of the local club and Forest field staffs, the evil venture was stopped.
It is unfortunate that when Forest Department, Government of Manipur under the leadership of the Hon'ble Chief Minister of Manipur supported by local NGOs, nature enthusiast, local clubs and other civil organisation are trying hard to protect and preserved the Reserved Forests, Protected Forests and other categories of forests in the state for the present and future generations that some people in power are continuing their illegal activity unabated to get portions of Reserved Forest land, which is public property, to be recorded in their names and some unscrupulous field staffs from Revenue Department are trying to help these people by manipulating the Government records illegally.
A forest offense has been registered in the Office of the Range Officer, Sawombung Range on the matter and investigation has been initiated to identify the person and book the culprit under law.