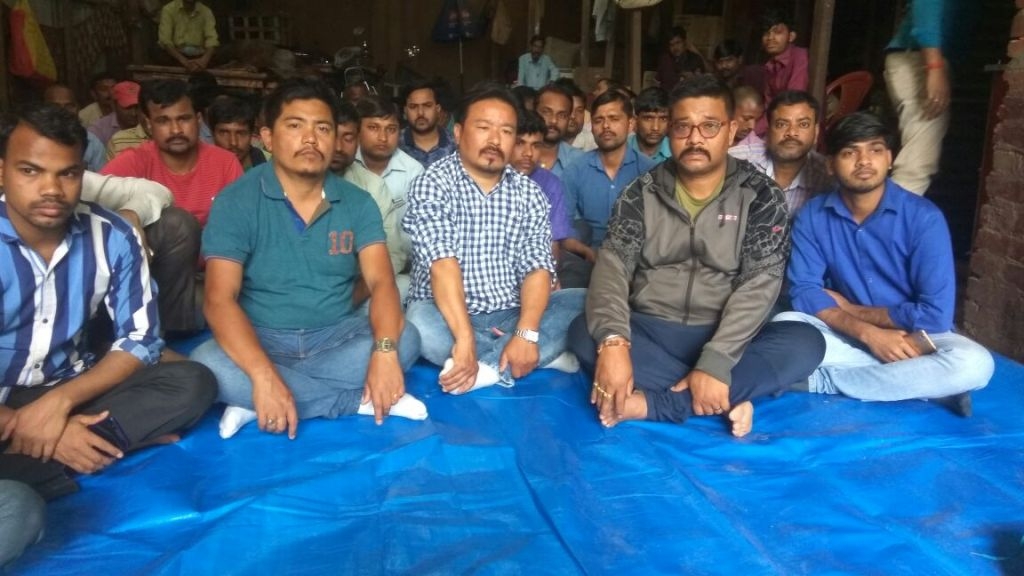 Imphal, April 26,
Betel leaves transporters and suppliers today staged a protest demonstration at Thangal Keithel after two drivers of two loaded vehicles were allegedly threatened to shoot by the brother of Forest and Environment Minister Th. Shyamkumar.
Forest Minister Th. Shyamkumar announced ban on betel leaves in the state on April 13. But was suspended following a Manipur High Court order of April 19.
Speaking to media persons, drivers of DI-Tata vehicles which were working under R.S. Transport Agency, identified as Waikhom Daniel Singh (42) of Wangkhei and A Shyam (38) of Langjing Achouba said that they reached Sekmai Forest beat office at around 8 pm yesterday. After getting transit pass for both the vehicles they proceeded towards Imphal. On reaching Koirengei they submitted Xerox copies of the transit pass to the Forest Beat Office of Koirengei. As they reached the Godown located at Thangal Keithel MG Avenue , near city police station, two persons came in a Ford card, and questioned them how they brought the betel leaves to the two drivers.
The driver Waikhom Daniel said that both the person who questioned them how they brought the betel leaves identified themselves as Ravi, brother of Forest Minister Th. Shyamkumar and Ranjit, PRO of the same Minister. The driver said that they came after getting transit pass (TP) from the forest department. Still then the brother of the Minister questioned them how could they come after getting TP. The driver Daniel, then showed the TP to the persons, but the Minister's brother questioned how could he get the TP in his name, which is not relevant. After a bit argument, the PRO then said that they can't load down the betel leaves at the godown. When argued, the PRO of the Minister allegedly told them he didn't care the TP and said that they are taking the two vehicles. When the driver told them to give them the TP, the brother of the Forest Minister took out a gun from the front of his car, probably a license gun but a small one. He threatened to shoot him.
Daneil said that he went ahead telling them to kill him if he like.
"Many times we have been tortured, harassed and threaten. If these big people keeps showing these kinds of attitude then how drivers like us surviving on hand to mouth", Daneil said.
"We didn't not organise this protest. Showing solidarity to us the betel leaves agent and distributor came all by themselves and joint us here as they have taken our betel leaves loaded two vehicles bearing registration No. NL-05 A 6808 and NL-07 A 6950″, he added.
The drivers and the agent of betel leaves demanded punishment of the two.
Meanwhile, City police had reported the matter to the higher authority.