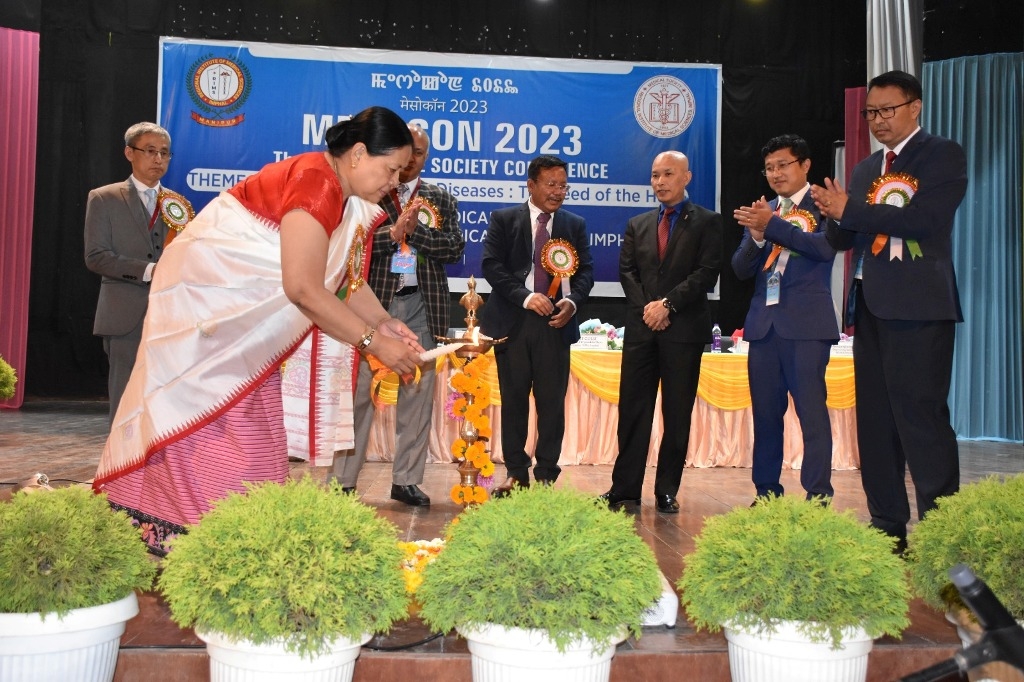 IT News
Imphal, Mar 18:
The 13th Annual Medical Society Conference (MESOCON), 2023 organized by Medical Society, Regional Institute of Medical Sciences, Imphal was inaugurated today, 18th March, 2023 at the Jubilee Hall, RIMS, Imphal on the theme – " Overcoming Lifestyle Diseases: The need of the Hour".
Prof. H. Priyosakhi Devi, Director, RIMS, Imphal graced the function as the Chief Guest sharing the dais with Prof. N. Sanjib Singh, Medical Superintendent, RIMS Hospital, Imphal as the President and Prof. Brogen Singh Akoijam, Dean (Academic), RIMS, Imphal & Prof. B. Praveen Reddy, Principal, Dental College, RIMS, Imphal as the Guests of Honour alongside Dr. S. Subhaschandra Singh, Chairman, Reception Committee, Prof. T. Jeetenkumar Singh, Organizing Chairman & Dr. Namganglung Golmei, Organising Secretary, MESOCON-2023.
A souvenir for MESOCON-2023, as well as the Journal of Medical Society, JMS, Vol. 36| Issue 3, was released on the occasion followed by a prize distribution for the P.G. award session-2023.
Dr. L. Subhasini Devi, Dept. of PMR, Dr. K. Selina, Dept. of PMR & Dr. Jairajlakshmi Angom, Dept. of Anesthesiology, RIMS, Imphal bagged the 1st, 2nd and 3rd prize respectively.
Speaking as the Chief Guest, Prof. H. Priyosakhi Devi, Director, RIMS, Imphal acknowledged the hardwork of the Medical Society Executive Committee members, stating that MESOCON is a platform for both Medical fraternity right from student upto senior faculty members. She further stressed on the role of exercise, diet and yoga to sustain a healthy lifestyle and urged the Ayush Director to participate in the next CME program to discuss together for the productive measures for a healthy lifestyle.
The program was participated by HOD's of various departments, students, faculty members and resource persons.