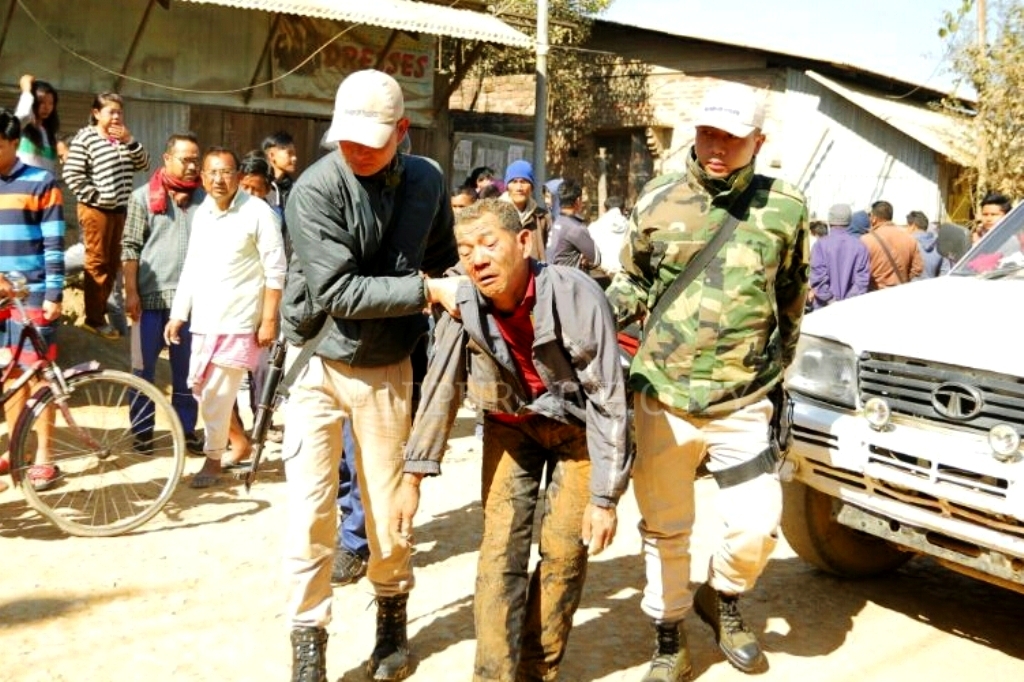 Imphal, Jan 9: A mentally unsound person nearly died today after a paranoid mob thrashed him black and blue, suspecting him as a child kidnapper. The bizarre incident happened around 10 am today morning at Laipham Khunou in Imphal West district. A police team who rushed to the spot rescued him from the blow of then angry mob and arrested him suspecting him as a child kidnapper, but later realized that the person is a mentally unsound person.
First hand report said that the ill-fated person identified as Thounaojam Germa, age about 38 years, and son of Thounaojam Modhumangol Singh of Chingmeirong Mamang leikai, Imphal, as per information from his Adhaar Card entered the courtyard of a house where some little girls were playing at around 10 am today. Locals said they saw him trying to take away a little girl, however, when the little girls were asked whether they knew him, they said they did not. The little girl was snatch from the arms of the person alarming the surroundings by a lady. Report said that the person did tried to hold back the child however, the lady forcibly snatch the girl. Some persons who were near the site rushed and after listening the story thrashed him black and blue.
Imphal Times when enquired about the persons to some persons of Chingmeirong Mamang leikai finds the persons as mentally unsound. A neighbour said that, Thounaojam Germa, popularly called by people as 'Honga' use to play with children of his locality most of the time. Lamphel Police OC, while talking to Imphal Times said that, family members of Thounaojam Germa came to the police station where he was detained and showed all relevant documents for undergoing treatment due to mental instability. He was rushed to RIMS hospital for medical attention as he sustained injury by the wrath of the mob on mistaken identity.