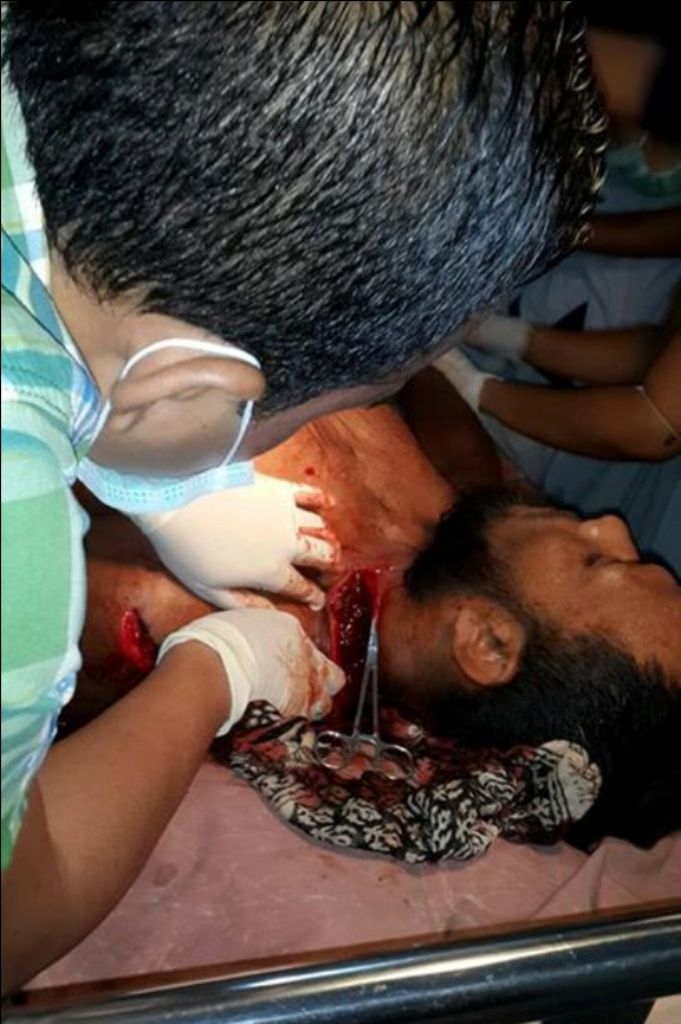 A person was critically wounded after another person attacked him using a dagger at around 10 pm at Lillong Ataokhong Mamang leikai under Lillong Police Station. The person identified as Md Tajudin (38) s/o Late Md Sherajur Rehman (50) of Lilong Ataokhong Mamang Leikai sustain severe injury at neck and shoulder after the culprit identified as Md Hajikhomei (65) of Lilong Ataokhong Makha Leikai chopped him with a dagger. Md. Tajuddin is presently undergoing treatment at Shija Hospital and Research Institute at Langol. As the victim is undergoing treatment at ICU, our reporter could not take firsthand account of what actually happen and how it happen. However, as according to the family member of the victim, Tajuddin was attacked inbetween the way towards his home .
Speaking to reporters at Shija Hospital and Research Center, a family member Md. Ayajuddin (34), said that the victim along with is wife went out at a shop nearby his house at around 9 pm yesterday after having dinner. When the wife went inside Tajuddin waited outside.
"There were also some 2 /3 person standing outside", said Ayasuddin.
When Tajuddin wife was inside the shop, the owner of the shop and her were informed about the attack to Tajuddin. That happen just few minutes after his wife went inside the shop.
The family member said that the incident might have took place somewhere around 300m from the shop.
Tajuddin reportedly ran out with the blood covering his neck and shoulder.
Speaking to reports Tajuddin wife said that at around 8 pm, Hajikhomei daughter Suntabi (33) called her husband Tajuddin through Cell phone and asked to come for dinner as they are ready to pay all the dues owe to them .
Tajuddin, being a diver plying in the local areas, use to drop local kids at the nearby boarding schools where Suntabi's kids also happen to be studying.
The injured Tajuddin was immediately provided first aid at Lillong Primary Health Center and later referred to Shija Hospital and Research Institute as his condition deteriorated.
Hearing the news, large number of people came out and throng to the house of the culprit. The large number of people turned wild and poured their anger by burning the house of Hajikhomei.
According to the statement of both the family members and the wife of the victim it still remain as a mystery on why Tajuddin was attacked in such a deadly manner. 
A  JAC against the brutal attacked on Md Tajudin has been formed today.
In a meeting held today morning the JAC resolved to ostracize Md Hajikhomei and their family from the locality.
The JAC also demanded the concern authority to award appropriate punishment to Md Hajikhomei, who is absconding since last night.