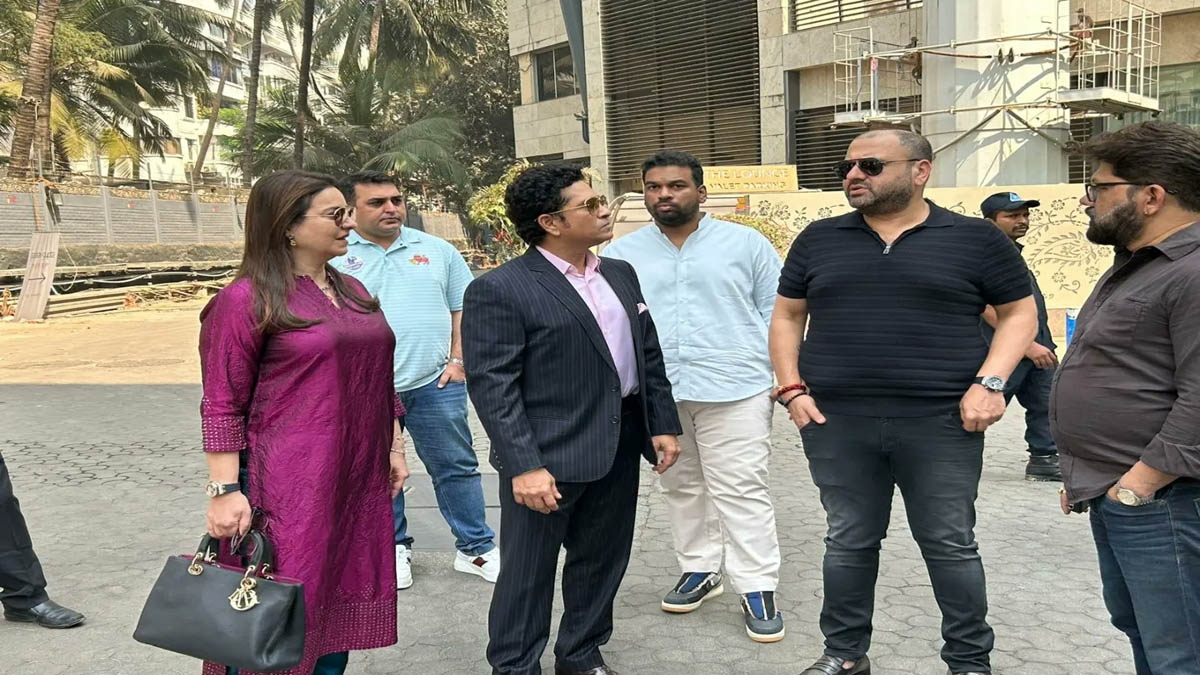 By Raju Vernekar
Mumbai, March 1
The Mumbai Cricket Association (MCA) has decided to install a life-sized statue of cricketing legend Sachin Tendulkar at Wankhede Stadium in South Mumbai, as a special tribute for his contribution to Indian cricket, on the occasion of his 50 th Birthday on April 24.
MCA is the sole governing body for cricket administration in Mumbai, Navi Mumbai and Thane district. The plan is to make the statue public during the ODI World Cup later this year. Tendulkar will have a statue at the same venue where he played his last game-200 th Test match against the West Indies in November 2013.
The announcement to install Sachin's statue was made by MCA President Amol Kale on the sidelines of Tendulkar's visit to the Wankhede on Tuesday. Bharat Ratns Sachin Tendulkar and his wife Anjali Tendulkar visited the Wankhede Stadium along with Kale, MCA Vice President Sanjay Naik, Secretary Ajinkya Naik and Apex Council member Suraj Samat of the MCA.
Speaking to electronic media, Sachin said "it came as a pleasant surprise for him and the stadium gave him wonderful memories. This decision is a pleasant surprise for me, 1988 is when it all started at the Wankhede. The journey started here for me. Played my first Ranji match here. Long ago, Achrekar Sir reprimanded me here and from thereon I became a serious cricketer. I played my last match at this very venue. Life has come full circle for me here. I have wonderful memories of this place, some memorable and some not-so-good. It's a big moment for me,"
"I started my cricketing journey representing Mumbai. India winning the World Cup in 2011 remains the biggest moment in my life. My last match representing India, was very memorable and that happened in Mumbai as well. I have always taken a lot of pride in representing Mumbai cricket, and my wonderful association with the MCA continues today as well. I'm very grateful to them for this kind of gesture," Sachin added.
Tendulkar is regarded as one of the game's all-time greats, with his incredible career that spanned 24 years and during which he broke a plethora of records. The cricket giant already has a stand named after him at the Wankhede. He also has a wax statue of him at Madame Tussauds in London.