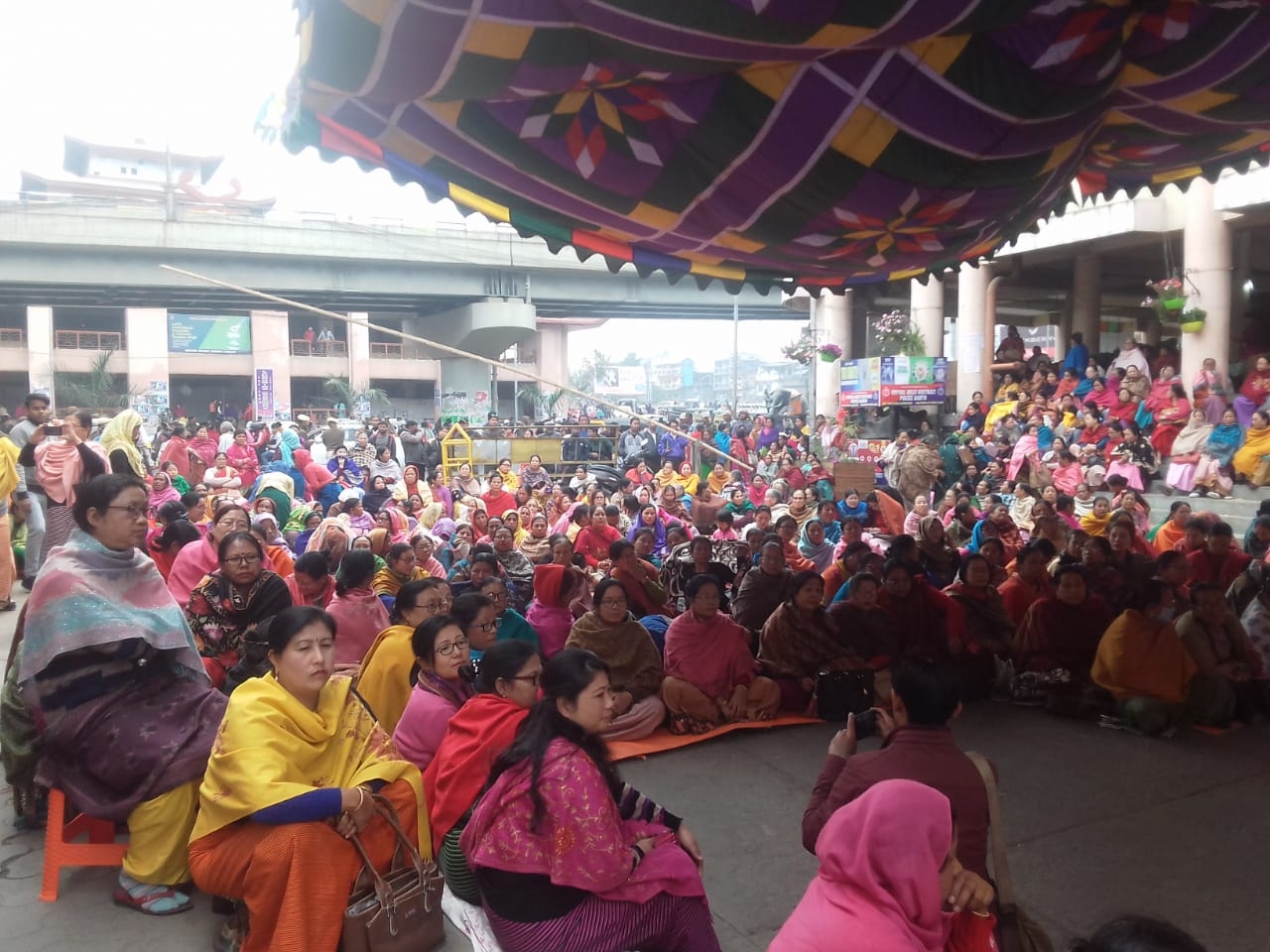 IT News
Imphal, Jan 29,
Historic Ima keithel – the only market run by women folk in the entire country today shuts as vendor women protest against the contentious Citizenship Amendment Bill 2016.
An emergency public meeting was also organised as a part of the protest by the conglomerate of civil society bodies called Manipur Peoples Against CAB in the middle of three Khwairambandh Keithel popularly known as Ima Keithel.
The Manipur Peoples Against CAB was formed yesterday to protest the Bill after a meeting of various CSOs held at Imphal Hotel yesterday. The meeting was reported to have been attended by around 70 different organisations.
Lancha Ningthouja, a social activist while talking on the occasion said that the mass protest demonstration in the middle of Khwairambandh keithel is being organized to declare that the civil bodies, students and various ethnic communities of the state have united to oppose the Bill.
"At this crucial stage, ethnic communities, civil society bodies, women bodies have sorted out all differences and we now stand united against the Bill", Lancha said.
"This meeting is a declaration of our united stand", he added.
Lancha further said that the impact of the Citizenship Amendment Bill is known by everyone and that is why there has been mass protest in the North Eastern states of India as the damage of the Bill in the NE states is irrepressible. He called on the people to prepare to struggle for safeguarding the region.
Sunil Karam, President of UCM while talking on the occasion warns the government of serious consequences if any act against the people is being taken up.
"Today we have united in fighting against the bill and I am sure we will succeed in our struggle" , Karam said.
He further added that any struggle that kicks start with the mothers of Khwairamband Keithel always was successful and added that the fight against CAB will be success. Sunil also elaborated the impact that would be given by the contentious CAB if implemented I the country.
During the protest all shops and business establishment located at Paona keithel, Thangal Keithel and its surrounding remain close. Even as there were some differences between the license vendor lady of the three Ima Keitel and street vendors –  today's protest show no difference between the two when it comes to CAB . With the street vendors and women of the surrounding taking part in the protest, the number of women folk joining the protest is estimated to have cross 5000.
Meanwhile, representatives of student's bodies which had gone to Delhi to stage protest against the Bill have reached Delhi. Report reaching here said that the representatives of the student's bodies which was also joined by various women bodies are now discussing on strategy for the protest.