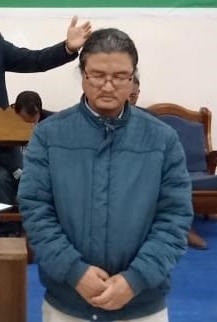 By Joshua L Amaw
CCpur, March 7,
 Joseph R. Hmar has been elected as the new leader to lead the Hmar tribe. He will head the Hmar Inpui (Supreme House of the Hmars) as president for two years till 2022.
Hmar representative from all over India met here in Churachandpur for the10th Hmar Inpui General Assembly-cum-Election at VTI Auditorium, Rengkai, Tuihaphai for the past two days i.e March 4 & 5.
Joseph R Hmar is currently the Tribunal General of the  All Tribal Students' Union Manipur (ATSUM) and also the organisation's former president. J. Lalchhanhima from Mizoram was elected Vice-President. Francis Songate (Manipur) retains his post as General Secretary while Richard Lalanpuia (Manipur) was elected as Joint Secretary.
The Assembly delegates also passed a number of resolutions including an amendment to its constitution. "Henceforth, December 5 will be celebrated as Sikpui Ruoi – the main festival of the Hmar tribe in regions inhabited by the Hmar tribe," Hmar Inpui resolution said. The organisation will also appeal to Manipur government for declaring December 5 as a restricted holiday as is being done in the neighbouring state of Assam.