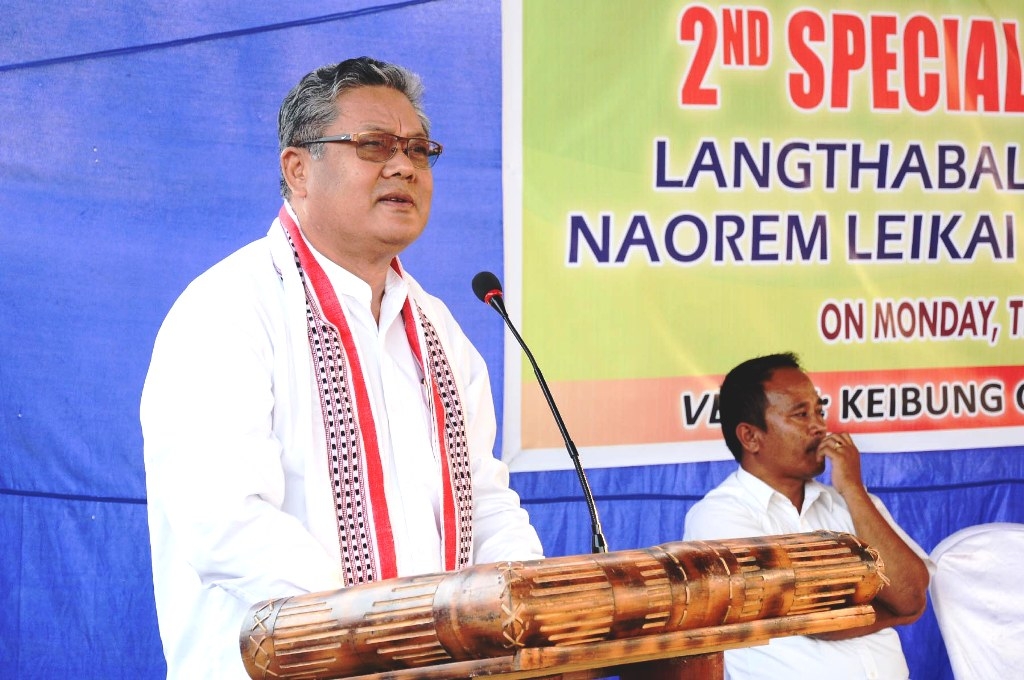 DIPR
Imphal, Oct. 9,
Minister of CAF & PD, Revenue, Karam Shyam expressed that the State will develop if the public co-ordinate with the Government in minimizing and checking the mistakes of the politicians from the grassroots level to the top.
He was talking on the importance of constant interaction of the public with the elected leaders in order to propel the present society towards progress and development while gracing the Second Special Gram Sabha of Langthabal Mantrikhong Naorem Leikai Gram Panchayat  as Chief Guest at Keibung Oinam Leikai yesterday.
Pradhan of Langthabal Mantrikhong Naorem Leikai Gram Panchayat, Aheibam Sunanda; Zilla Parishad Member of Imphal West, Laishram Roshan and senior citizen and social worker, Laishram Ibohal also shared the dais with the Minister at the function as President  and Guests of Honour respectively.
Breifing media persons, Minister Karam Shyam drew the attention of the public to stop the bad habit of criticizing others and overlooking our own mistakes. "Lets stop blaming others, lets instead try to inculcate a sense of responsibility and work together by supporting and correcting each other", he said.
Highlighting that the current political system needs change as it seems to favour the opportunists and victimize the timid and selfless altruists , he stated that there is need to change the election and political system to bring more transparency and better administration in the State.
Governance is a tough task that requires sacrifice and keeping the overall interest and welfare of the society above self-interest and personal gains, he also stated.
He also expressed regret that the Direct Benefit Transfer schemes cannot still be fully actualized due to certain reasons, he said.
He also appealed the masses to collaborate and support with the elected leaders by acknowledging the significance of the Gram Sabha and to give whole-hearted public participation.
He also stated that the public should not stay as silent spectators to mob-lynching incidents and try render their civic duty if possible.
Zilla Parishad Member Laishram Roshan stressed that the basic reason hampering development is the shortage of funds due to the devolution of power and finance to them.
"At present, we get only 3% funds instead of 10% that the State finance should provide us.    MNREGA is going backward due to it",   he stated.                                                                                                                 
Staff of Horticulture Department, Lenin Khwairakpam gave a briefing on the various schemes taken up by their Department, creation of water sources & Human Resource Development during the functions.
Primary Health Centre, Kakwa staff, N Roji also shared her expertise knowledge on making health cards using AADHAR cards for the disables and widows.
Members and ex-members of Langthabal Mantrikhong Naorem Leikai Gram Panchayat, senior citizens and its locals took part in the meetings  .