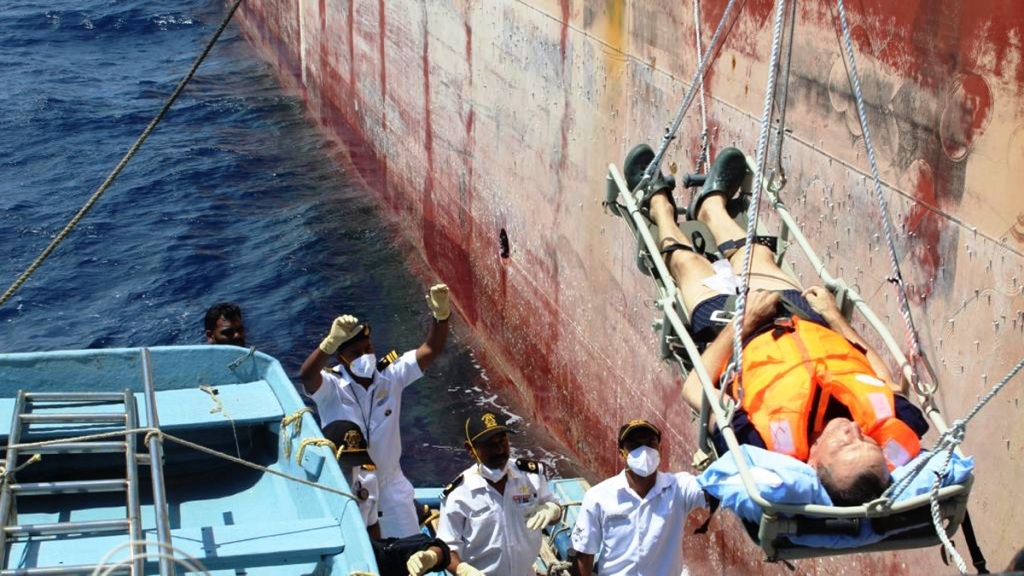 By Raju Vernekar
Mumbai, May 4:
The Maritime Rescue Coordination Centre (MRCC), Mumbai of the Indian Coast Guard (ICG), rescued a 55- year old critically ill crew from a Liberian flag vessel "MT Torgovy Bridge" from Kavaratti Island on Wednesday.
The Kavaratti is the capital of the Union Territory of Lakshadweep in India. It lies 360 Km of the coast of the State of Kerala.
The vessel was on voyage from Tanjung Pelepas, Malaysia to Suez, Egypt. When she was about 300 nautical miles from nearest land, a 55-year old crew reported critically ill and unconscious by the Master of the ship. He required urgent medical attention to prevent severe complications.
The MRCC received the message on late Tuesday afternoon. Considering the criticality of the patient and on receipt of further inputs on his condition, medical advice through Coast Guard Medical Officer was provided to the ship. Further, Maritime Rescue Sub-Centre (MRSC) Kavaratti, was also activated to facilitate disembarkation of patient and safe transportation to the local hospital at Kavaratti, a statement issued by the Indian Coast Guard on Thursday read.
In the meanwhile, "MT Torgovy Bridge" was directed to proceed with best speed for the designated rendezvous position off Kavaratti. The ship reached off Kavaratti on Wednesday May 03 and the patient was safely disembarked at about 2.10 pm. The patient was thereafter shifted to the ICU of Govt. hospital Kavaratti for further medical management.
The prompt and professional coordination and execution of medical evacuation by the Indian Coast Guard resulted in providing timely medical intervention to the critically ill crew member of the ship and enabled continuation of voyage of "MT Torgovy Bridge" to its next Port of Call, the Indian Coast Guard statement said.