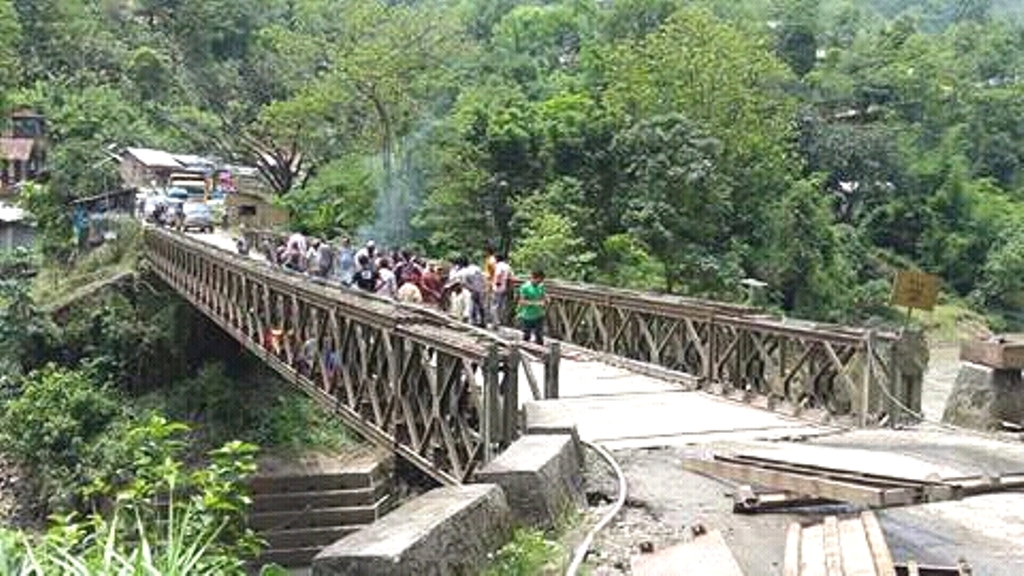 Imphal, May 30: Incessant heavy downpour in recent days has worsened the already dilapidated National Highway 53 (Imphal-Jiribam).
A recent journey from Imphal to Silchar brought to light the fact that the worst sections of National Highway are found nowhere else but in Manipur.
Even though the Centre is spending huge amount of funds to complete the repairing work along Imphal-Jiri road, the condition of the highway continues to remain in its worst state due to poor progress in work and frequent occurrence of landslides.
Of the entire stretch of the highway, only a 60 km long Imphal-Noney stretch is in a comparatively good condition while beyond Noney upto Nungba, the road is littered with pot-holes thereby causing lots of inconveniences to transporters and passengers alike.
However, the road stretch from Nungba to Keiphundai is in the most pathetic condition making it unsuitable even for pedestrians, let alone plying of vehicles.
Like in Manipur where many sections are covered by columns of dust during dry seasons and thick layers of slush during rainy season, some portions of the highway leading to Silchar in Assam are also proving to be tortuous to travelers.
One would come across such pathetic conditions on the Imphal-Jiribam (NH 53) highway which connects to Silchar in Assam.
Even though local media have published the existing condition of NH 53 every now and then, it merits a comparative study.
One may say that Imphal-Awangkhul section of the highway has improved considerably but the remaining portions have not seen any improvement so far.
The condition of the highway from Awangkhul to Barak bridge is terrifying. After crossing Barak bridge, the road is all covered by stones (for expansion of the highway) upto Nung Dolan. As for the Barak and Makru suspension bridges which are the vital links of NH 53, they are what they have always been, with no sight of any improvement in the foreseeable future.
The condition of the Irang bridge is in its worst condition and BRO men were found repairing the bridge.