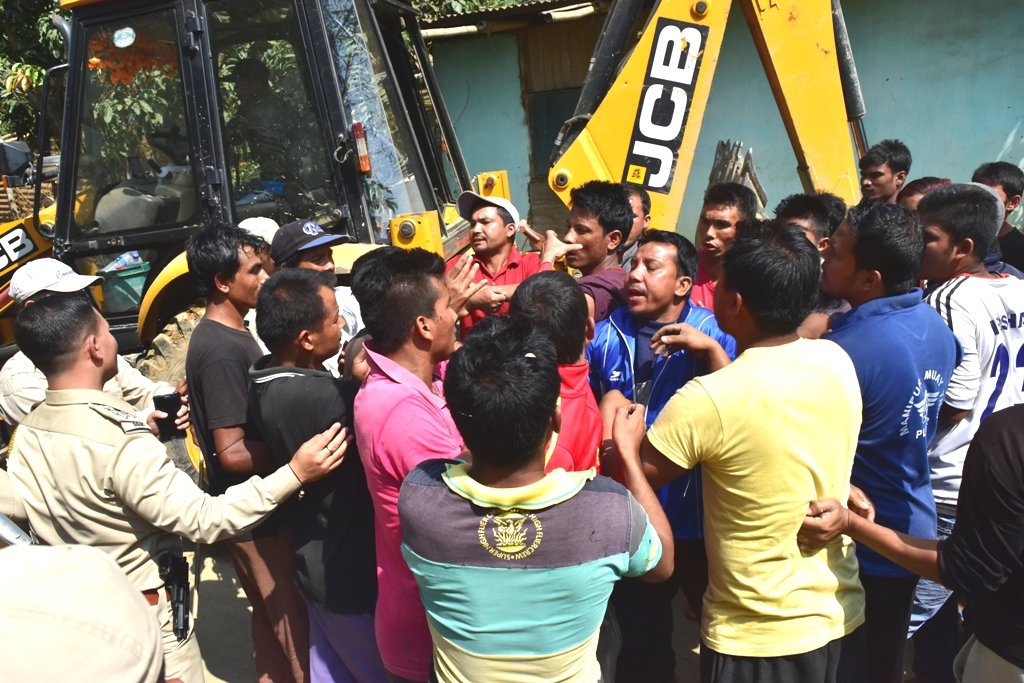 At least 64 structures and houses allegedly constructed illegally at Heingang Reserved Forest have been evicted by a team of Central Forest Department and Heingang police station personnel starting from today morning around 7 am.
During the eviction drive the team also evicted 32 houses at Hanaba Ching, Keirang Machin Khunou mainly populated by Muslim communities largely non – Manipuris.
When visiting the site of eviction, Imphal Times reporter witnessed a scuffle between police personnel and locals of Heingang area regarding the eviction drive.
An earth mover (JCB) was destroyed by locals while a water reservoir reportedly situated within the Reserved Forest area was also dismantled by the government authority.
On top of it, some of the public properties including Sericulture and Horticulture firms situated at Heingang were also destroyed.  Due to misunderstanding between the forest department officials there was also a short brawl regarding the destruction of Sericulture and Horticulture firms. The eviction of the government structures were stopped after the intervention of Forest Minister. While, locals of Heingang expressed displeasure over the eviction of Heingang Garden, which was established with a view to protect the reserved forest.
According to officials of Forest Department it has been mentioned that the department had already served show-caused notice six times since October 2013 to concerned villagers and owners of illegal structures to vacate the area. Locals and environmentalists expressed concerned over the mass destruction of the agricultural lands, forest products and Lokchao Sericulture Farm located at the Heingang Makha leikai which is under the Department of Agriculture, Manipur Government.